World Cup
Delph reveals how Henderson's penalty miss allowed him to savour England's semi-final joy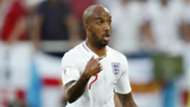 Fabian Delph has joked that Jordan Henderson's penalty miss against Colombia brought on his wife's labour.
Delph missed the last-16 tie, which the Three Lions won 4-3 on penalties after a 1-1 draw, as he returned to England for the birth of the couple's third child.
The Manchester City midfielder was back in Russia for Saturday's 2-0 win over Sweden, playing 13 minutes off the bench to see out the victory after headers from Harry Maguire and Dele Alli.
And Delph joked Henderson's miss - Eric Dier going on to score the decisive spot-kick - was enough to send his wife into labour.
"It's hard to put into words, it was an amazing week," Delph said to BBC Sport. "I'd like to thank Gareth for allowing me to go home and be with my wife.
"It was hard for me. I think it was the penalties that brought on the labour. I've got Hendo to thank for that. To go to the next round is amazing."
Of his wife Natalie, Delph added: "She's fantastic - we had a home birth, our third, my wife is an absolute machine. We are caught in two minds on the name.
"I'm so happy I got to go home and share that moment as I didn't want to miss it, it's once in a lifetime."
Delph's return gives the 28-year-old a unique insight into the World Cup fever in England, a feeling he has attempted to communicate to his colleagues.
"It's crazy - I tried to explain to the boys what it's like back home," Delph added.
"We're in a bubble and not really aware but I had four or five days and it's scary, frightening, everyone is right behind us. Even people who are not into football.
"I was getting stopped on the school run, so I'm glad we could get the win and continue on for them."