Bayern München
David Alaba: We have to stand against racism and make the world better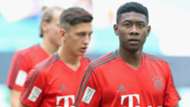 David Alaba pauses to think and chooses his words carefully. He's discussing a serious topic and wants to make sure he expresses himself well in his second language.
Yet, he says, these are the types of conversations we need to have more often, difficult though they may be for everyone. Mesut Ozil's abrupt retirement from the German national team after feeling "racism and disrespect" saw DFB president Reinhard Grindel say he does "not wish to shy away from this debate." But what kind of debate do we need to be having? And what can a soft-spoken player like David Alaba do to fight against an issue that can seem so overwhelming?
"This a good question, and for me to explain it in English is not so easy. I want to find the right words to explain exactly how I think about this," Alaba told Goal. "These things aren't easy to explain, how we have to fight against this thing. It's an ugly part of this world and also in our game. We have to figure out how to fight against this."
The Bayern Munich defender has had racist language directed at him from various people during his career from online trolls to far-right politicians in his native Austria. While there are no easy answers to dealing with hate speech, he said the football community must begin by acknowledging the issue exists.
"When we talk about racists, first, racists still exist on this earth. They're in Europe and in Austria and Germany where we play, in Italy. I've heard a lot of things and also have my own experience with that," he said. "We don't have space for this, especially in football, but also just on the Earth. We have to try to stand against it and make this world better. Football is a good platform for that. I think football is trying to handle this and make things better, but of course it still exists."
During difficult moments in his career, the 26-year-old has leaned on the faith instilled in him during his childhood. Alaba comes from a religious household and said his beliefs have helped him deal not only with trials he has gone through but also the pressure that comes with being his nation's best player or suiting up for a big club like Bayern.
"I grew up Seventh Day Adventist," he said. "Faith means a lot to me," he continued. 
"My parents brought me up with the faith and since I was small I've believed in Jesus and tried to read the Bible as much as possible. It helps me a lot during my life on the pitch, but also beside that. I've still tried to mature in this."
When the conversation turns to less serious topics, Alaba's English flows freely. That's no surprise considering it's also the main language he chooses to communicate in on his social media channels, especially when the team is touring the United States as it was for a pair of ICC matches this month.
"I try my best. First of all, I have a lot of English-speaking fans in the world and I want them to be a part of what I'm doing, so I want to keep them close and give them back the love they're giving to me," he said. "We feel over here how much love there is in the U.S. They always welcome us kindly and with a lot of love, and we try to give that back with this trip when we're here and me on social media."
Blessed to have your backing wherever we go 🙏🏾 @FCBayern #da27 pic.twitter.com/mg2gGBzDCu

— David Alaba (@David_Alaba) July 22, 2018 
Alaba's enjoyment of American culture goes beyond connecting with fans when the club visits on summer tours. He's a fan of North American music (Canadian rapper Drake's latest album Scorpion is a current favourite) and tries to keep up with the NBA and NFL.
"Music is a big part of it. I grew up in a very musical family. My sister is a singer, my father is a singer. I grew up with hip hop and also sports, especially basketball and football. It's big over here. Soccer is getting bigger now in the States. I think music and sports were the first things," Alaba said when asked when he started to notice American culture.
Ultimately, Alaba need not worry. He's articulate in English, and his play on the pitch needs no interpretation. The return of Bayern's World Cup stars for the start of the Bundesliga season should allow him to return to a more familiar position as the club's left back instead of paying in the middle as he did in a 3-2 loss to Manchester City on Saturday. There, he'll be able to rely on his instincts and for 90 minutes won't need to think deeply. That can come after the match.