South Africa
Danny Jordaan re-elected South African Football Association president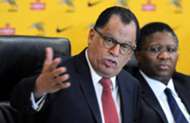 Danny Jordaan was re-elected South African Football Association (Safa) President on Saturday afternoon. 
The veteran football administrator was resoundingly re-elected by a margin of 95.12%. He received 234 of 246 votes, two votes voted against and one spoilt vote.
The 66-year-old was intially elected as the new president of Safa in September 2013 -  succeeding Kirsten Nematandani.
Jordaan was elected ahead of Mandla Mazibuko by 162 to 88 votes from 52 regions.

On Saturday, former match referee Andile 'Ace' Ncobo withdrew his candidature for the top position, which meant Jordaan went into ballot box unopposed. 
The two were supposed to go to head to head at the Safa elective congress which took place at the Sandton Convention Centre, Johannesburg.
However, Jordaan, who is a former chief executive officer of the 2010 FIFA World Cup South Africa, was re-elected Safa president for a second term of five years.
Ncobo affirmed that he had been threatened while returning to his seat after raising several objections to the elections continuing. He then decided to walk out of the Convention Centre.
"We will have to review that. The decision cannot be mine," Ncobo said on Times Live.
"I did not nominate myself. There are a whole lot of other people who must make the decision in terms of where to from now," he continued.
When asked if he would contest the result, he responded: "Again, that decision cannot be mine. It's a collective decision. I have registered there, inside congress, formally - it's minuted - that I said this thing is unprocedural, unlawful and it is organised illegally."
"As soon as I announced that I want my name removed from this thing there were delegates who started threatening me, especially one gentleman who was close to my table who threw all kinds of insults and threats," he added.
"I don't know his name. I can't repeat the things that he said. But I tabled it again, at the congress, that, 'I am being threatened here', and the chairperson of the electoral committee called him to order," Ncobo explained.
Ncobo has repeatedly raised objections to these elections since earlier this year. 
"Even the timeframes. They just called for a condonement of timeframes that have not been met right inside this congress," he said.
"They just come to congress and then they bulldoze that those illegal steps must be condoned. Clearly that's not democracy, that's not procedure," he concluded.
Dr Danny Jordaan has been resoundingly re-elected SAFA President by a margin of 95.12%.

He received 234 of 246 votes.
2 votes voted against & 1 spoilt vote pic.twitter.com/EJtp7jhZRS

— SAFA.net (@SAFA_net) May 26, 2018