Azam
Cioba hands Paul Peter new contract after Cup hat trick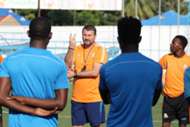 Azam FC Head Coach Aristica Cioaba has handed a new contract to teenager Paul Peter after a string of good performances in the recent Cup games Goal can report.
The Romanian coach revealed to Goal that he is satisfied with the player's performance and has agreed to give the striker a new contract and believes he will help the team in the run in for the premier league title.
"Paul is a talented player, especially for his scoring capacity he showed me during the Mapinduzi Cup in Zanzibar last month and also on Tuesday when he scored a hat- trick against Bukinafaso FC in the Confederation Cup" said Cioaba.
Peter is expected to fight for first team chances with other Azam striker which Bernard Arthur, Mbaraka Yusufu, Idd Kipwagile, Yahya Zaid and Enock Atta Agyei.