Liga MX
Cruz Azul no flash in pan: Five thoughts from Liga MX Jornada 7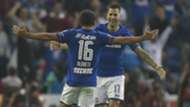 For the next 11 days, Liga MX teams will be training without having to worry about a match that weekend. Players carrying knocks will be able to get fit. Those representing their countries will be taking part in World Cup qualification matches. But coaches treasure the time with those who stay. After the players get a rest from the busy week that just saw some teams play three matches in seven days, they'll return to the training ground with time to try out new ideas, to work together in new ways and to clean up things that otherwise would be glossed over. Oh, except for the Copa MX matches coming this week.
Before that time begins, let's look back at what will stick in the mind during this international break with Five Thoughts from the Liga MX weekend:
---
Cruz Azul not a flash in the pan
---

Cruz Azul managed to stay undefeated while also sinking in the table and nearly falling out of the playoff positions. Still, Paco Jemez will hardly be concerned. The Maquina manager watched as his team held one of the league's best attacks, and a team that has thus far been in a league of its own, to just one goal. A missed penalty from Dorlan Pabon could've changed things and given Monterrey, which also remains undefeated, the victory. But the teams split the points and Cruz Azul stayed hot.
Unlike Saturday's guests, Cruz Azul hasn't been playing stunning football. Goalkeeper Jesus Corona was superb in keeping Monterrey from taking the three points from the Estadio Azul. Does it matter that Cruz Azul has been less-than-perfect in accumulating two wins and four draws so far? Not really. This is a team that historically is among Mexico's best but has been far from that the past four to five years.
The strength has come from the middle of the park where Gabriel Penalba and Rafa Baca's partnership has been strong in keeping other teams from creating clear-cut chances while the attack also has been boosted by Edgar Mendez and Felipe Mora. Jemez is hoping he'll have a selection issue with so many players in good form, something that would've been laughable to suggest during the Clausura.
"I think you have to respect what the players are doing right now. The team is progressing well. For me, the results are really good," Jemez said after the game. "Now they have to wait for their chance. We've got the Copa MX where the players who have played fewer minutes can play and it's a great issue for me."
They're clearly not the best team in the league, but the hot start also isn't a fluke. This is clearly a much-improved team under a coach who is understanding the league much better than he did upon arrival.
---
Bou best signing of summer?
---

There were bigger acquisitions this offseason than Gustavo Bou, but the former Racing forward again came up big for Tijuana in a 2-1 victory over Pachuca. The importance of the three points to Xolos heading into the international break can't be overstated. Eduardo Coudet's team now has won three in a row after going without a victory in the first four games of the Coudet era.
The manager bringing in his fellow Argentine to score goals looks like a stroke of genius. Bou isn't scoring wonder-goals, but he made the most of a little space in the box to score Tijuana's opener, his fourth goal since joining the league and fourth consecutive match with a goal.
Enner Valencia went to a Tigres team already loaded with talent, but after losing Aviles Hurtado and Guido Rodriguez within the league, the border club needed someone who could help an attack that had relied heavily on Hurtado. After a slow start, it looks like Bou is a perfect fit in Coudet's system, and Tijuana once again looks like a team that could contend for a trophy.
---
Atlas needs boost - or savior
---

After another defeat during a weekend when Veracruz was able to pull out a victory, Atlas continued at the bottom of the table and would be relegated if the campaign was brought to an abrupt end today. Luckily for the Zorros, there are still eight months to pull everything together, but the way Atlas is playing now can't give fans a huge amount of hope. 
Rafa Marquez's off-field issues after his designation as an alleged cartel front man by the U.S. Department of Treasury has hit the team hard, but so too have injuries to midfielder Clifford Aboagye and forward Milton Caraglio. The latter returned in the 2-1 reverse at Necaxa, but came out having failed to make much of an impact. Something or someone needs to give Atlas a boost.
Is that someone Ravel Morrison, the former England starlet last seen with Lazio who is reportedly set to join the side? Who knows? At least the club seems to realize the current iteration isn't going to be good enough. Never mind the Liguilla. At this point, Atlas is fighting for survival.
---
Lobos have bite
---

Tigres were able to get past Lobos BUAP with a 3-2 home win Saturday, but the newly promoted team did display the characteristics that will keep them from being a team opponents circle as an easy three points.
The visitors allowed Tigres little in the box considering the attacking potency the Monterrey outlet possesses and also were able to generate attack with Tigres loanee Julian Quinones scoring in stoppage time despite Lobos falling to 10 men. Tigres were better, and the just winner, but Lobos won't go down easily this season, even as the team struggles with financial issues that come with not being able to sign a TV coverage deal.
"It's impossible to be satisfied after losing, however today I recognize my players' commitment," Lobos coach Rafael Puente said after the match. "They played with heart on the field and came to play a brave and bold game against a powerful opponent."
That same attitude should reward Lobos against lesser opposition, and they could imitate Necaxa in making the Ligulla in the first season since coming up to the top division if they can find some defensive consistency.
---
Dearth of Mexican coaches again on display
---

After Paco Palencia was fired at Pumas last week and Javier Torrente was let go from Leon after La Fiera there has once again been lots of talk about potential replacements. Palencia, who was one of the league's few coaches to be both young and Mexican in a league where most coaches are old and foreign, and Torrente, who is Argentine, likely will be replaced by South Americans keeping the number of Mexican coaches in the league below half.
As two coaches in the first division under 40, Jaime Lozano at Queretaro and Rafael Puente at Lobos BUAP do give a bit of hope that Mexican directors will be convinced to take a few more risks like the ones Bundesliga managers are taking. At the same time, the level of tactical education in Mexico lags far behind that of Germany. TV continues to skim off the top candidates to manage as well, enticing recently retired players to the booth rather than the touchline with promises of a high salary and a job that requires far less stress.
But the FMF should be concerned that there are no obvious options for teams like Pumas and Leon if they want to look within or give the chance to a potential rising star. Coaching education programs need to be fast-tracked if there are going to be more coaches who can lead not only Liga MX teams but perhaps even break through and coach on the international level or in a non-Mexican domestic league.
---
Goal of the Week
---
Seriously, is Adrian Aldrete kidding with this? The Cruz Azul left back couldn't hit it any better.