Liga MX
Cruz Azul can build on Jornada 1 success to make Estadio Azteca feel like home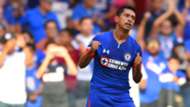 Cruz Azul looked right at home this weekend, beginning a new era in the Estadio Azteca with a 3-0 victory over Puebla.
La Maquina bid farewell to the aging Estadio Azul at the end of the Clausura and now share Mexico's largest and most historic stadium with Club America. That change is significant, but fans were far more excited about the changes in personnel before the season. Former America sporting director Ricardo Pelaez arrived this summer and wasted no time in getting to work. The 55-year-old used his contacts and knowledge of the league to bring in proven players. 
Center back Pablo Aguilar, who crossed paths with Pelaez at America, joined from Tijuana. Elias Hernandez came in from Leon. Rising star Roberto Alvarado moved to the capital from Necaxa, as did center back Igor Lichnovsky. Even teenager Misael Dominguez, who had an assist as an impact substitute, came in from Monterrey.
The only Cruz Azul starter to make his Liga MX debut in the win was holding midfielder Ivan Marcone, an import from Argentina who had five-year Celeste midfielder Rafa Baca next to him. More than half the lineup, however, was new to the club. That includes Hernandez, who scored a phenomenal goal in the 94th minute to cap off a Man of the Match performance in his new colors. 
"I felt happy to support the team, play in my part and bring this fan base some happiness. Beyond scoring, I think it's important to praise the team's effort because we've really understood what the manager has asked us," Hernandez said after the match.
Cruz Azul dominated the match, keeping Puebla from registering a single shot on goal and with Pedro Caixinha taking advantage of Puebla's efforts to get out of the Azteca with a point to play an attacking style. It suited the team, with Aguilar involved on both sides and the new attacking players - Hernandez, Alvarado and new forward Milton Caraglio - connecting passes without difficulty.
Of course, it stands to reason that a squad of players with Liga MX experience will hit the ground running in the league while others may need time to adjust. Pretty much any reaction to Jornada 1 results is an overreaction. It was easy to get carried away. "An Argentine hasn't been seen killing it like this at the Azteca since Maradona," one viral tweet said. You can't blame the fans, though, for having more optimism than in past seasons.
Cruz Azul is a 'grande', one of Mexico's four historically biggest and best teams. The key word for Cruz Azul, though, has been 'historically,' with the last of the team's eight league titles coming way back in 1997. Rather than do an overhaul like the one the team undertook this summer, the past several tournaments have seen the club try to put more bandages on top of the wound. In bringing in Pelaez and giving him the resources to sign players with proven success in the league, they're ripping off the Band-Aid and trying to address the actual issue. Cruz Azul hasn't been good enough the last several seasons.
(90') ¡GOOOOOOOLLLLAZOOOO GOOOOLAZOOOOOO GOLAZOO! 🔥🔥🔥@EliasHdz08 con una jugada al mejor estilo de Messi y una definición de CRACK marca el tercero ⚽🙌#UDLigaMX: @Cruz_Azul_FC 3-0 @ClubPueblaMX pic.twitter.com/gFczlAx4eO

— Univision Deportes (@UnivisionSports) July 21, 2018
The blame often has fallen on the manger, with Sergio Bueno, Tomas Boy and Paco Jemez all shouldering the blame for falling short. Now that there are players who know the Mexican league and who have started well it will fall on Caixinha to get it right and bounce back from his own misadventure outside North America.
It's far too soon to say Cruz Azul is going to be playing for a title - it beat an average team in the first week of the season. The pieces are there, though, and Pelaez's approach is a smart one. Fans may be heading a little further south than they're used to, but if the team can build on the energy it showed in Jornada 1, Estadio Azteca will be a very happy home.