Transfers
Conte right to swap Batshuayi for Llorente, says Dixon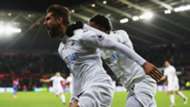 ---
EXCLUSIVE
---
Kerry Dixon, regarded as one of Chelsea's greatest ever strikers, has backed Antonio Conte's attempt to shake up his forward line in January as the Italian looks to swap Michy Batshuayi for Swansea City's Fernando Llorente.
The Belgium international joined Chelsea for £33 million in the summer but has struggled to get enough minutes on the pitch due to the form of Diego Costa, who leads the Premier League scoring charts with 14 goals.
Real Madrid show incredible spirit to break record
Goal understands that Chelsea are targeting a loan move for Llorente in order to help their title push, and Dixon - who scored 193 goals during his time at Chelsea - believes that Conte is thinking along the right lines. 
"It makes sense to me," Dixon told Goal. "Batshuayi was bought by Chelsea with a pretty hefty price tag and for a striker of that ilk, you would expect a certain amount of games which, due to the form of Diego Costa, he hasn't been able to achieve that.
"I fully understand - If they do put him out [on loan] for game time. Llorente is somebody that Conte can say, 'I have worked with him before.' He would come in and be a squad player and be capable of doing a job for us, if indeed Diego Costa was injured or suspended.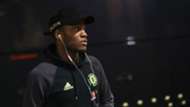 "The downside to Llorente is we haven't seen much of him. We haven't seen much, really, of him doing well and having the pressures of coming in and doing well in the Premier League. Fighting for titles, but we will see and if it does happen we have to go with what Conte is saying.
"If Diego Costa stays fit, I can't see him playing too many games."
Kerry Dixon played for Chelsea in the 1980s and 1990s, before Roman Abramovich transformed the club, but remains the Blues' third-highest ever goalscorer and helped the Stamford Bridge club to two promotions from the second division along the way.
He thinks that Batshuayi could be a good option for West Ham, who are struggling this season, and believes that a loan move may keep his value from decreasing over a lack of match action. 
"Chelsea [could leave an] option to bring him back in on short notice and it would possibly be written in [the deal], if indeed it could be. He came in for that hefty price tag and if Chelsea decide he isn't what they need for the future, and he hasn't played any games then his price would go down.
"If he goes to West Ham and proves he can score in the Premier League then I think his value on the transfer market, if indeed Chelsea were to sell, would at least be the equivalent of what we bought him for.
Drogba agrees bumper Brazil deal
"Or it could be slightly enhanced, if he does really well so I can fully understand why they would think about the move, because otherwise they would have a player whose price will have dropped without even playing too many games."