Kingsley Coman
Coman sidelined for 'several weeks' with ankle ligament tear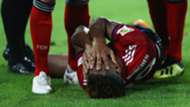 Bayern Munich winger Kingsley Coman will miss "several weeks" after suffering a ligament tear to the same ankle that required surgery in February.
The France international was on the end of a crude late challenge from Hoffenheim defender Nico Schulz late in the first half of the Bundesliga season opener at Allianz Arena.
It was an unfortunate blemish for the reigning Bundesliga champions, who saw off Hoffenheim 3-1 in the league opener. 
He was initially comforted by team-mates and had to be helped from the pitch by medical staff, having been unable to apply any pressure to his left foot.
"It doesn't look good for now. He is in severe pain," Bayern boss Nico Kovac told reporters post-match.
"He will have tests tonight. I hope it's not serious but we are fearing the worst."
Those fears have been confirmed by the club as the diagnosis is a syndesmosis ligament tear in his left ankle, which requires surgery.
The 22-year-old was forced to miss three months with last season's setback and was subsequently left out of France's World Cup squad.
Kingsley Coman has suffered a syndesmosis ligament tear in his left ankle and will be out for several weeks.

Wishing you the speediest of recoveries, Kingsley! 🙏 pic.twitter.com/649TH4tO3H

— FC Bayern English (@FCBayernEN) August 24, 2018
Despite injury woes last season which limited him to just 21 Bundesliga games, and only 10 starts, Coman still was a hot name in the transfer market.
The winger personally dispelled rumours of a move to Arsenal, speaking to the length of his contract and vowing to return to the form he showed pre-injury.
That promise will now be put on hold with Schulz shown a yellow card for the tackle, one of four Hoffenheim players to be booked in the first half.
Though Coman was lost for the match, his replacement, Arjen Robben, scored in the 90th minute to seal Bayern's 3-1 victory.
Robben had found the back of the net earlier in the second half after following up a saved Robert Lewandowski penalty, but the goal was ruled out due to an infraction on the penalty. Lewandowski would score on the retry attempt. 
Thomas Muller scored the opener for Bayern, while Adam Szalai briefly had the visitors level before Lewandowski re-established the lead from the spot.
Bayern are next in action in the Bundesliga on September 1 against Stuttgart.