KPL
Coaches condemn AFC Leopards fans' act of hooliganism witnessed at Kasarani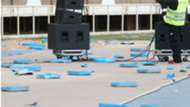 AFC Leopards fans should be ashamed of the acts of hooliganism that saw a massive destruction of properties during the Mashemeji Derby.
AFC Leopards fans were caught on tape ripping the seats at Kasarani after Ingwe conceded the second goal in a 2-0 defeat against rivals Gor Mahia on Saturday.
The agitated fans expressed their anger with a primitive energy directed on the innocent seats. Vihiga United assistant coach Francis Xavier and former Kenyan striker Boniface Ambani have joined forces to condemn the act witnessed at the refurbished Kasarani.
Xavier warned that the act of hooliganism is a 'dangerous way to develop the game of football adding that the act can easily scare away investors.
"Destroying chairs and vandalizing fittings is unsporting. It's a backward way to express anger. It causes hatred and destruction. It temporarily satisfies your ego and makes you regret when you sober up," said Xavier.
Ambani, who doubles as the AFC Leopards junior team coach, told Ingwe fans to prepare to take a share of the blame, terming the action as 'way word thinking'.
"I condemn that kind of hooliganism seen at the stadium. Now the club will have to pay for the destructions done. Taking the club back again-money that could have been used to do something else," Ambani told Goal.
"When Leopards get locked out these facilities you'll be the 1st person to throw stones at the stadium management. I'm disappointed!"