Liga MX
Clasico Nacional lacks luster with leader America facing subpar Chivas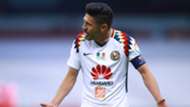 The Clasico Nacional is generally the most important match of the season in Mexico. With huge numbers of fans supporting both Chivas and Club America, the country's eyes turn to the matchup long before the players actually take the field.
Ahead of Saturday's meeting at Estadio Chivas, however, things have been muted. It turns out that no matter how much history a game has, it's pretty tough to get excited about the league's undefeated, table-topping team traveling to play the penultimate team in the league.
To be fair, Chivas are on a bit of an uptick in form. In addition to moving on in the CONCACAF Champions League thanks to a pair of painless wins over Dominican club Cibao FC, they've also earned a point in each of their last three Liga MX matches.
The most exciting moment leading up to Saturday's game, though, was an Oribe Peralta news conference. Plenty of outlets ran with the quotes as though the America forward was "heating up" the rivalry or pouring fuel onto an already smouldering fire. In reality, Peralta was simply speaking candidly about Saturday's game.
"America right now is much higher than Chivas. They have the hope of winning the Clasico to save their tournaent," he said Thursday at a news conference. "We've kept a good pace in the whole of the tournament and we hope to keep doing things like that until the end and to be able to win the title. That's what we're aspiring to, not winning the Clasico."
It's tough to rouse up any sort of emotion about Peralta's statements. He's just telling the truth. Chivas sit in the penultimate place in the table, but a win would delight fans. It also, not insignificantly, would put Chivas onto 10 points. That's still likely six out of the playoff places depending on the rest of the weekend's results but would give the team a starting point to begin chipping away at the gap.
How did this happen? Why did a Chivas team that lifted the trophy in May suddenly become pitiful? Start with the lack of changes in the transfer window. Even when manager Matias Almeyda's team were champions, there were noticeable issues in the team. With its Mexicans-only policy, the options to replace during the offseason are severely limited. Still, Almeyda wanted the club to sign three senior players this winter and instead saw the arrival of a few promising youth players and got goalkeeper Rodolfo Cota back.
America had a better tournament than Chivas did in the Apertura and still went out to spend. The arrivals of Emanuel Aguilera in defense, Jeremy Menez and Henry Martin in attack, and Andres Ibarguen on the wing have made Miguel Herrera's side stronger. The forwards have drawn the attention, but it's Aguilera who has anchored a unit that has conceded only six times in nine games.
It's worth noting that Chivas tried to bring in Martin - and that America left back Carlos Vargas also is Mexican and was available on the market after Chivas' title win. Vargas had played center back - a position of need for Chivas. 
It's not like Chivas have a terrible lineup, though. Players at all ranks from goalkeeper to forward have experience with the national team. Center back Oswaldo Alanis is bound for Europe (though he missed most of the preseason because of the club's hubris in a contract dispute), and midfielder Orbelin Pineda should soon follow. Up top, Angel Zaldivar has been missed but Alan Pulido has shown he can be a top-level Liga MX striker and the young attackers around him have plenty of potential.
But it hasn't come together for Chivas this tournament. It didn't in the last one either. That makes a match that generally is must-see TV something much less exciting (must-DVR?). Even the die-hards are struggling to get up for this one. While America was welcomed to its hotel in Guadalajara by more than 100 singing fans, Chivas' night before was far more restrained. A handful of supporters showed up to the hotel the team stays before matches, but nothing like what we've seen in the past.
Should Chivas pull an upset all the quiet build-up will fade away in the wall of sound that is Guadalajara fans finally having something to celebrate. Otherwise, the post-match analysis will fade away among the din of those celebrating America's strong start.