Mohun Bagan v Peerless
CFL 2018: Profligate Mohun Bagan drop first points against resilient Peerless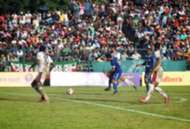 In many ways, Thursday was different from other match days. A sense of apprehension overshadowed hope and exuberance among the Mohun Bagan faithful. When the referee blew the first whistle, a section of the fans' gallery and large chunks of the membership gallery were vacant. 
Although the Mariners were yet to drop points, they had looked far from convincing in their previous three wins. All the matches had been snoozefests. Even the fans agreed that to overcome Peerless, their team must switch gears. 
But Chakraborty once again failed to inspire his boys to pull up their socks. After six weeks of pre-season and three three competitive fixtures, the Bagan coach is yet to find a working combination. He has used three different formations in the first four matches (4-4-1-1, 3-5-2, 4-4-2) and is still looking to experiement to find the 'right option'. 
"I am being forced to change my midfield combination as we are not being able to score in first-half. So to find the right option I am making those changes," said Chakraborty in the post-match presser. 
While the coach is guilty of not being able to settle to a particular style of play, the players are to be blamed for below-par performances.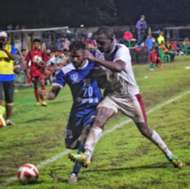 All three departments must bear equal responsibility for dropping points against Peerless. Aser Dipanda and Henry Kisekka made school-boy errors in front of goal and within the first 30 minutes, four chances had gone down the drain.  An unmarked Kisekka failed to connect to a cross from his striking partner from sniffing distance whereas Dipanda, in spite of having ample time to to connect to a cross from Kisekka, could not maintain his body-shape and balance.
Minutes later, Basanta Singh decided to join the bandwagon as he lost his footing while taking a shot at goal. 
Both Sourav Das and Shilton D'Silva were toothless in midfield. They were only comfortable in receiving the ball and passing it to the flanks. Apart from a through ball to Dipanda in the 42nd minute, Das' creative contribution to the match remained nonexistent. 
On the other hand, Peerless' backline proved that it is no coincidence that they were yet to concede a goal before taking on Mohun Bagan on Thursday. Two centre-backs Dalraj Singh and Chika Wali put in exceptional shifts. They followed Bagan's striking duo like a shadow and did not let them have any space to shoot at goal. It was Wali who stuck out his foot to deny Dicka a shot on target at the fag end of first-half and minutes later left-back Avinobo Bag did just enough to unsettle the Cameroonian while he was heading towards goal after a long-ball from Tirthankar Sarkar.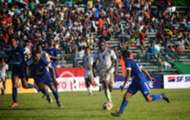 Mallick remained the live wire for Bagan but the lack of imagination in the attacking third was glaring as they were repeatedly halted in their tracks while looking for the opener. 
It has become an open secret that Chakraborty would bring on Mehtab Hossain at the beginning of second-half to infuse oxygen into a lifeless midfield. With the introduction of Mehtab, the quality of play does not improve drastically though the set-pieces find more purpose and direction. But for reasons best known to the coach, Hossain does not get to start. 
Finally, Bagan did get the opener though Kisekka. The regular script was unfolding at Maidan as Bagan had once again scored around the 75th minute mark.
But call it complacency or lack of concentration, a rare defensive lapse from Eze Kingsley in injury time handed Peerless the equaliser. Kingsley had hardly put a foot wrong in the entire match but his decision to go for the final tackle without getting himself into position handed former Bagan man Kromah the opportunity to skip past him and score. 
"It is not a revenge goal. I dedicate this goal to my mother. But I am sad to score against my former team. Mohun Bagan is the best team and I am sad that I scored," stated Kromah after the match. Did he mean those words? One can keep guessing.