PSL
Cape Town City need a few new faces, says Eric Tinkler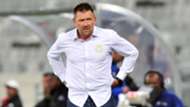 Cape Town City have experienced a Premier Soccer League (PSL) campaign to remember and after securing a top three berth, they may still pip Mamelodi Sundowns to the post for the coveted Caf Champions League spot.
Despite the Citizens' recent success, coach Eric Tinkler has already expressed his plans for next season. The coach has stated that he will bring in several new faces as he looks to bolster his squad and reinvigorate the competition within the team.
"There are obviously a few new faces that need to come on board' but not just because of Africa'" Tinkler told Times Media.
"This season we were a bit of an unknown quantity but teams now come a lot more prepared defensively to play us.
"We are not going to be an unknown quantity next season – people are going to be seeing us as a serious threat so we need to ensure we obviously bring in quality players that will give us a lot of depth in the squad. Because again you are going to see a very congested season with the (2018 Russia) World Cup," Tinkler added.
"The way you remind our players (that they need to improve) is by the players that you bring in' that's the harsh reality.
"I felt this season that we had a few players who didn't really have anybody pushing them and you can go into a bit of a comfort zone.
"But next season we want to ensure we don't have that. And when you are bringing in quality to your team' that also lifts the spirits and morale and confidence of the squad to say' 'Hang on' we mean business'," he said.
"Bringing in those two was very important' because you are bringing a 'name'' but also quality and that is important for the morale of the team'" Tinkler concluded.