Opinion
Can Nigeria fans trust NFF & Gernot Rohr after Algeria controversy?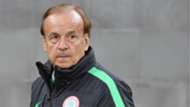 ---
COMMENT    By Solace Chukwu    

Follow on Twitter
---
So it is that, at the height of euphoria, the universe has seen fit to introduce some corrective balance into Nigerian football.
World Cup qualification sewn up in double-quick time, the thorny issue of match bonuses dealt with in the most professional fashion, a new contract for Super Eagles manager Gernot Rohr, corporate sponsorships spilling over: this new reality was so starkly at variance with the usual that, like an engorged balloon, it was surely bound to burst.
Burst it did, with a loud and embarrassing pop on Tuesday, following Fifa's announcement that, in fielding Shehu Abdullahi, Nigeria had used an ineligible player in November's World Cup Qualifier against Algeria. This was a reminder that, while there has been a lot of cosmetic surgery, there remains a need to excise the tumor of incompetence and negligence that lingers in, but in fairness is not restricted to, the Glass House.
The bare facts of it are extraordinary enough. Shehu apparently received two cautions in the qualifying series: the first in the first leg of the Second Round play-off against Swaziland, and the second in the win over Zambia in October, which secured qualification for next year's Mundial in Russia. This, in effect, made him ineligible for the next game against Algeria.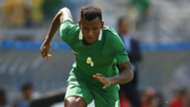 What is rather more remarkable is that the game in question was of no effect. Having punched the World Cup ticket in the win over Zambia, Rohr had the luxury of using that final qualifier as a means to blood in new players, and had no need to play his trusted lieutenants.
Instead, the changes made to the team were injury-enforced: Anthony Nwakaeme, John Ogu and Ola Aina came in only due to the incapacity of Odion Ighalo, Ogenyi Onazi and Elderson Echiejile; the only concession to the irrelevance of the fixture was in keeping John Obi Mikel dry for the friendly against Argentina a couple of days later.
This raises a number of disturbing questions, both about the competence and vigilance of the Nigeria Football Federation as well as the decision-making of Rohr. In mild defence of both parties, the two-year interregnum between the cautions in question – the first came in November 2015, two whole years ago - probably made it a little trickier to track, and the organizers should perhaps have brought it up beforehand.
Furthermore, at the time Rohr wasn't contracted to Nigeria; those were the days of Sunday Oliseh. So while he (and his crew) may get off lightly on the premise of ignorance, it is still a wonder that he elected to play Shehu.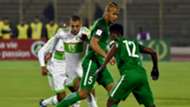 This is not, as some might assume, simply a matter of hindsight being 20-20, as the opportunity cost of his decision – that Tyronne Ebuehi's international future remains in the balance – was clear even then. The situation so clearly required the sort of big-picture thinking that one routinely sees when European nations seek to competitively cap youngsters of dual nationality.
Yet, that can be excused as something rooted in a deep stubbornness, or even an attempt to preserve the belief and conviction of a young squad that had gone through the entire series without defeat. What excuse can be made for the NFF?
To excuse them entirely on the grounds of the two-year period between bookings would be too light: they have, after all, been under the same leadership in that time period, and Dayo Enebi (whose job it is to know and draw attention to these things) was Team Secretary even then. Interestingly, this sort of thing almost happened back in 2014 in a Nations Cup qualifier against Sudan. Then, according to reports, Efe Ambrose had to draw attention to the fact that he was suspended following the first leg in Khartoum before he was taken off the team for the return.
That the NFF is now outsourcing its vigilance to the players themselves, or even leaving themselves at the mercy of Caf/Fifa, can hardly be considered best practice.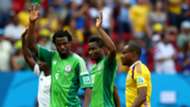 While there have been no grievous repercussions on both occasions, the thought of what it might have meant had Zambia been close enough that the three points and three goals docked mattered should send a chill down the spines of all involved.
To miss out on a World Cup, by virtue of the four-year cycle, is to potentially lose a generation of players in their primes. Russia presents team captain Mikel with one last chance to write a definitive World Cup story, and the likes of Leon Balogun, Ahmed Musa and Ogenyi Onazi will not be spring chickens come 2022.
FIFA sanction to Nigeria for use of ineligible player: NFF President has directed that an internal inquiry be instituted immediately & persons found culpable be dealt with. "We accept the decision of the FIFA Disciplinary C'ttee to fine the NFF and award the match to Algeria. 1/3

— The NFF (@thenff) December 12, 2017
Yet the greatest damage would be to the likes of Ebuehi, Alex Iwobi, Aina and Bryan Idowu, all of whom defied European nations to play for Nigeria. To then miss out on the World Cup, having put in so much, due to an administrative oversight, would be almost unthinkable.
It is this consideration, never minding that it is not now manifest, that should spur the NFF hierarchy into action. As like as not, this is the sort of thing for which someone ought to lose his job, having proven to be so incompetent at it. It is in doing that, drastic as it may seem, that one may finally glimpse meaningful reform, not just of branch, but of root.