African Nations Championship
Caf inspection delegation expected in Kenya next week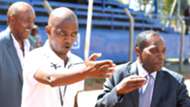 A high-level delegation from Confederation of African Football (Caf) is set to arrive in the country next Monday, September 11, 2017, for a third and final inspection visit that could seal Kenya's fate on Chan hosting rights.
The final inspection tour, that was initially scheduled for September 7, before it was called off, will give the clear road map, whether Kenya will host the 2018 Africa Nations champions (Chan) tournament in January.
Kenya is way behind schedule in preparing the four venues earmarked for the event and the situation is even made worse by the recent ruling by the Supreme Court of Kenya to cancel Presidential election with a second poll expected in October.
The Caf delegation, to be led by second Vice-President Constant Omari, will be in the country for eight days from next Monday.
A statement from FKF signed by Media Officer Barry Otieno and obtained by Goal confirmed the visit. "A high level Caf delegation, led by 2nd Vice-president Constant Omari is set to arrive on Monday, September 11, 2017 for a third and final clearance inspection visit.
"The delegation will be in the country for 8 days."
Omari was in the country over the past weekend to assess the current political situation but left in a huff to attend to family matter in his home country.
The government has so far set aside close to Sh5billion for the event though Caf also wants the Kenyan government to commit Sh7billion as a guarantee that they are committed to hosting the game.