Manchester City
Bravo hints at frosty Guardiola relationship but rules out Man City exit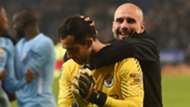 Claudio Bravo has hinted at his frosty relationship with Manchester City boss Pep Guardiola, but insists he has no desire to leave the Premier League leaders anytime soon.
Bravo has been reduced to Carabao Cup appearances this season, having lost his place as City No.1 to summer signing Ederson.
The Chilean has, however, been the star man in two of his three cup showings, having made a number of one-on-one saves and kept out two shoot-out penalties in the fourth round against Wolves, and saved the decisive spot-kick against Leicester City on Tuesday night.
That save sparked wild celebrations among the travelling support, with Bravo and his City team-mates racing to join them.
Blues boss Guardiola quickly joined in, but when he embraced Bravo from behind, the goalkeeper, who had previously been smiling in celebration, appeared distinctly unmoved.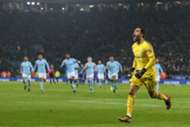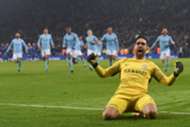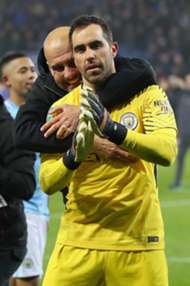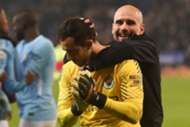 Sources close to the player have told Goal that the relationship between the two is far from rosy. A key moment came following Bravo's appearance against Huddersfield in the FA Cup last season, after he had been dropped from league action in favour of Willy Caballero.
Guardiola congratulated the Chile international for keeping a clean sheet at the John Smith's Stadium, only to be told by the keeper that had not signed for City to play in such matches.
Bravo, speaking after Tuesday's game, suggested that their relationship is indeed strained.
"Well, it is what it is," he said after being questioned about Guardiola's hug. "He is grateful for the two penalty shoot-outs in which it was my turn to help the team, but other than that there is nothing else to say."
The 34-year-old has recently been linked with a move away from City, with Argentine side River Plate named as a potential destination.
But Bravo is settled in England and pleased with the life he has made for his family since he left Barcelona.
"I have a very clear picture," he said, talking about his eventual plans for retirement. "There has been stuff about River or I don't know where, today there was an article that I was already preparing to return [to South America]... I think there's a long way to go for that.
"I think life is not only about football, life involves a lot more, I have a family to consider, they are living in Manchester, we are thrilled that the kids are learning the language perfectly.
"These are things that we consider as a family, setting aside whether I'm playing or not. It's all about being calm, to keep working, keep doing my job when I'm called upon, and being patient. In that sense I'm calm, at my age I'm not going crazy, as I said in life there are many things more important than football."