Juventus
Bonucci to miss Juventus' clash with Porto after Allegri argument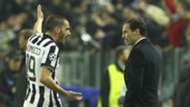 Leonardo Bonucci will not feature for Juventus in their Champions League last-16 tie against Porto on Wednesday for disciplinary reasons.
Allegri's public bust-ups with Juve stars
The centre-back had a heated argument with coach Massimiliano Allegri during their 4-1 win over Palermo on Sunday.
Late in the game, Allegri was overheard on video calling the Italy international a "dickhead" and telling him to "fuck off" in an argument that continued beyond the final whistle. It ended with Bonucci telling Allegri to "go to hell". 
It seemed as though it was business as usual when Juventus published the list of players in the squad for the game, which included Bonucci.
However, it seems Bonucci has been punished after all as he will not even be an option from the bench in his side's first-leg game in Portugal, as he will be forced to watch from the stands.
"Tomorrow Bonucci will be in the stands. That doesn't mean it has to be made into a big deal. Out of respect for the club, the team and the fans, this was the right decision," Allegri explained in Tuesday's press conference.
"The case is closed. Leo understood the situation, as an intelligent lad and important player for Juventus. It's a moment that will be useful for the future.
"I also had a reaction that was not right and not suited to the way I see football, above all with fans and children watching, so tomorrow I will give a charity donation.
"Things happened and that's it. If Bonucci was the first to react like that, he might not have paid such a heavy price. It's the rule of life – someone has to pay."