Premier League
Berekum Chelsea chief Sarfo rejects match-fixing allegations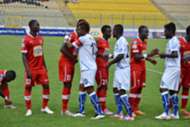 Berekum Chelsea CEO Nana Oduro Sarfo has denied allegations that they were involved in match-fixing scandals this season.
The Brong Ahafo-based club have been in the news recently following a 4-2 defeat to Liberty Professionals in matchday 28 of the Ghana Premier League, after the scoreline and goalscorers of the game were allegedly leaked hours before kickoff.
Coincidentally, all the predictions came to pass but Sarfo insists they were just interesting perceptions by football lovers.
"Berekum Chelsea do not play fixed matches in the Ghana Premier League as speculated in the media," Sarfo was quoted as saying by Herosportsgh.com.
"For instance, we have our own destiny to survive relegation in our hands and we cannot engage ourselves in fixed games.
"Personally, I think all those allegations against us are perceptions. This is what I term as interesting perception because although we lost 4-2 to Liberty, we didn't compromise to any betting allegations because we are seriously looking for solutions on how to survive the relegation battle," he added.
In other related development, Hearts of Oak management member Joshua Acquah was picked up by the Criminal Investigations Department on Tuesday for allegedly engaging himself and the club in betting scandals.
"Per my investigations, Joshua Acquah has been doing this for the past two years and this is just a tip of the iceberg," Member of Hearts' communication team Kobby Jones told Asempa FM.
"He is not the only one from Hearts who is involved in this syndicate and what make it serious is the people in high authority of our football that he is allegedly working with at the blind side of the club.
"Ghana Football Association must use this as a test case to curb corruption in our football. The football governing body must lead the investigations and get to the root of this betting issue," he added.