Africa Cup of Nations
Atsu & Co. hoping to make up for Russia 2018 disappointment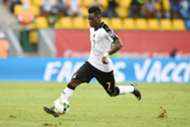 Ghana international Christian Atsu says the Black Stars have set sights on winning the 2019 Africa Cup of Nations to appease fans for missing out on the World Cup.
After three consecutive appearances at the global showpiece between 2006 and 2014, the Stars will be absent at Russia 2018, having finished third behind Egypt and Uganda in Group E of African Zone third round qualifying.
With Ghana yet to win the Afcon since Libya 1982, Atsu and his colleagues have a fair idea about how to make amends.
"The fans were really disappointed when we couldn't qualify for the World Cup, but we have the African Nations Cup coming in 2019," the Newcastle United ace, who played at the last World Cup in Brazil, told The Voice.
"We haven't won it for 36 or 35 years now and the fans in Ghana are really angry with the Black Stars because of this.
"So, for us, we want to tell them that we are working hard and preparing for the 2019 African Nations Cup - which they would prefer [we won] to the World Cup.
"So, we are very confident that we will give them what they want."
Ghana have won the Afcon on four occasions – 1963, 1965, 1978 and 1982.
Their quests for a fifth title, has, however, ended in a series of disappointments, having consecutively reached the last four of the competition since 2008.
In 2010 and 2015, the Black Stars lost in the finals.