Newcastle United
Atsu admits being average at Newcastle United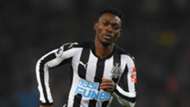 Newcastle United midfielder Christian Atsu is hoping for a consistent performance in the upcoming English Premier League season.
The 26-year-old Ghana international, who was on the books of Chelsea, joined the Magpies on loan in 2016, playing a crucial role in their qualification to the top-flight.
However, his performance has been inconsistent since making the deal permanent last season, scoring two goals in 28 appearances.
"I think I've been average, to be honest. I have to be more consistent this season. I need to work hard to score more goals and to assist more," Atsu was quoted as saying by The Chroniclelive.
"I did a lot of work during the summer. I had ten days off and then I came back to work in the gym in Newcastle with one of our physios. I stayed in Newcastle during the off-season," he added.
Atsu appears to have recovered from a knee injury sustained before the close of last season and is currently enjoying preseason with the Magpies.
"I'm very happy during pre-season because I can feel the work I was doing last season and during the summer paying off now I have joined up with the team," he said.
"I have a target in mind but I will keep it to myself. But I have to reach my target this season and I believe I'm going to. I believe I will score more goals than I have in the previous two seasons.
"It's a big challenge for me. You see a lot of players, myself included, who will play well in one game but not the next. This season I'm not going to allow this to happen."
He added: "It's a mentality as much as anything. I want to be more consistent this season, to be playing more, to score more and to assist more. That's the mentality I need to have. It will be a lot of hard work but I believe it's going to happen this season.
"In modern football, you need to defend as a winger, especially in the English Premier League. You have to be able to attack and defend, everybody is running and if somebody says you are not doing the right thing the manager is going to change you. I have to improve my fitness to be able to do the defensive side of the game."