PSL
Assault charges against Rakhale allegedly dropped, winger back at Orlando Pirates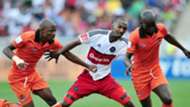 Orlando Pirates attacking midfielder Thabo Rakhale was arrested last weekend for assaulting his girlfriend, police spokesperson Fikile Funda confirmed. 
Rakhale, who has been out nursing a hamstring injury, was held in a Police holding cell in Vereeniging after his girlfriend opened a case of assault against him on Saturday.
This was confirmed by Vereeniging police officer and captain Fikile Funda, who stated that Rakhale was arrested and charged.
"I can confirm to say that Mr. Rakhale was arrested on Saturday for assault GBH (Grievous bodily harm)," Funda said.  
"Apparently he assaulted his girlfriend on the 14th, but he was arrested on Saturday (March 18). His lawyer came and he was granted bail on the determination of the prosecutor," said the police spokesperson.  
"He appeared in Vereeniging Magistrate Court on Monday, the 20th. Apparently, the victim in this case withdrew charges against him," Funda revealed.
Rakhale is back in the Pirates' camp and appears to have put the matter behind him.