Internazionale v Olympique Lyonnais
Asamoah bracing up for Cristiano Ronaldo challenge in Serie A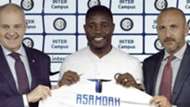 New Inter Milan acquisition Kwadwo Asamoah has expressed surprise by the decision of five-time Ballon d'Or winner Cristiano Ronaldo to swap La Liga for the  Serie A. 
The Portuguese, who also has five Champions League titles in his cabinet, stunned the world in July when he opted for a move from Real Madrid to Juventus, the side Asamoah left for Inter the same month. 
With their homes for the upcoming season settled, the Ghana international, who has already faced the former Manchester United man before, is looking forward to another possible match-up.
"I did not expect him to go to Juventus, but for [the good of] Serie A, it is positive that such a champion comes to Italy," Asamoah told Corriere dello Sport.
"I have already faced him when we played Real Madrid in the Champions League and I am getting ready to give my best against him and the rest of the players in the Serie A."
Asamoah also shed light on his introduction to his new side and their Serie A target this term. 
"I would say [my introduction was] great. Now I have been here for a few days and I feel like I have been with Inter for a year," the 29-year-old said. 
"I am already part of the team and everyone immediately made me feel like I am part of the family.
"Everybody starts the championship [Serie A] with the same amount of points. 
"The team is convinced to do our job well and that we have all the means to steal their satisfaction."
Asamoah has made four pre-season appearances for Inter so far.