Arsenal
Arsenal striker Giroud says he could play for Mourinho or Conte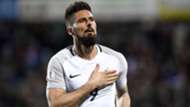 Arsenal striker Olivier Giroud believes he would have no problem working for a passionate manager such as Manchester United's Jose Mourinho or Chelsea's Antonio Conte.
The France international has spent the last five years at Emirates Stadium with Arsene Wenger, who has come under pressure in recent months due to a poor run of results.
His fellow countryman is not regarded as being the most demanding of bosses, with the Gunners squad given a freedom to express themselves.
'Wenger too arrogant for his own good'
Wenger has been known to lose his temper at times, but his touchline antics can be considered tame when compared to a number of his Premier League rivals.
Mourinho and Conte wear their heart on their sleeve, with the pair having almost come to blows on a couple of occasions this season.
Looking further afield, Atletico Madrid boss Diego Simeone is another of those to kick every ball from inside his technical area.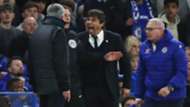 Giroud has thrived away from that kind of sporting theatre in north London, but the burly frontman insists he could be a success playing under a passionate coach.
He told L'Equipe: "As an idea, why not? 
"Each experience is good to live through. I would adapt. 
'Vieira can replace Wenger at Arsenal'
"At Montpellier in 2011-12, Rene Girard was of the fighting mentality, of a player who never gave up, of open-mindedness, of fight. A barker.
"We were the champions of France with him."
Giroud may end up having to alter his game in 2017-18, with the uncertainty that continues to shroud Wenger's future at Arsenal suggesting that a change in the dugout may be imminent.