Arsenal
'Arsenal are an absolute shambles' - Club legend Wright tears into Wenger's side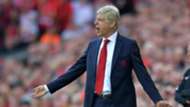 Ian Wright has branded Arsenal "an absolute shambles", with problems on and off the field placing the club on a slippery slope.
The Gunners crashed into the international break with a 4-0 defeat at Liverpool on Sunday to leave them facing some uncomfortable questions.
Arsene Wenger's ongoing presence at the helm remains an issue for some, including Wright, while the uncertainty surrounding the future of several prominent figures continues to provide an unwelcome distraction.
The problems at Emirates Stadium appear to run deep, on the back of a fifth-place finish last season, and a legendary figure from their past is fearing the worst.
Wright told BBC Radio 5 Live: "When you go through the list of everything that is going wrong, and you've got to throw in recruitment - whoever's doing the recruitment, someone's got to have a massive, massive word - it's an absolute shambles and I'm really gutted for everybody involved."
Arsenal have agreed a £35 million fee with Chelsea for the sale of Alex Oxlade-Chamberlain, while Mesut Ozil and Alexis Sanchez have yet to agree extensions to expiring contracts as exit talk rumbles on.
Wright added: "Chelsea want him [Oxlade-Chamberlain] - Chelsea, the champions will take him. That says we obviously have players that are good enough.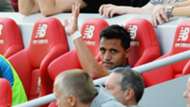 "If Sanchez and Ozil are free, they will be snapped up.
"Why can't we get these players to play for us? Why don't they want to play for us?"
Wright then turned his attention to Wenger, who committed to a new two-year contract earlier in the summer.
He said on a man he believes "won't quit": "He is literally a hermit to the game. He goes home and he's probably on his phone. It's all football and more importantly it's all Arsenal. You do feel it's almost like his blanket, his comfort blanket.
"If he's not got Arsenal, I don't know what would happen to him.
"I don't know what to say about his future and what's going to happen with him now."
Arsenal will not get an opportunity to start righting their wrongs until they face Bournemouth on September 9, by which time the summer transfer window will have closed and they will be forced to make do until January.