Bundesliga
Americans Abroad: Wood and Hamburg face drop, silverware for Americans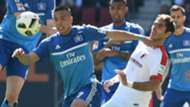 After a couple of good months, things have gone south at the worst possible time for Bobby Wood and Hamburg.
Since pulling off a big win over Hoffenheim, Hamburg has dropped three straight games. Two of the matches have come against fellow strugglers — Darmstadt and, this week, Augsburg. Wood was a non-factor in both contests, as he did not get many touches and did not make the most of the few he had.
Hamburg has now fallen to the relegation playoff spot, which would mean it would face the third-best team in the 2.Bundesliga in hopes of retaining its top-flight status for next season.
Harrison leads MLS team of the week
Hamburg is level on points with Wolfsburg and Mainz, while just two off Augsburg and, surprisingly, three off Bayer Leverkusen. With three games left, any of those sides could go down if their form craters, and any of those clubs could find safety with a couple of good performances. But right now, Hamburg is the team that looks lost.
Whether Wood would join the club in the second division remains to be seen. The striker was excellent in the 2. Bundesliga last year, earning him the move to Hamburg, and there has been rumored interest in him among first division clubs in Germany and elsewhere.
"Everyone loses players to a financially stronger club every once in a while," Hamburg sporting director Jens Todt told Sport Bild.  "And it could happen to us. But we definitely want to keep Bobby."
Wood isn't the only American looking at a drop in Germany. Alfredo Morales and Ingolstadt are four points off Hamburg and look headed to the second division. Terrence Boyd and Darmstadt, on 24 points, are a near lock to go down.
However, one American may be on his way back to the Bundesliga next season. Stuttgart holds a slim three-point lead in the 2.Bundesliga, which would likely mean Julian Green's return to the top flight.
But unfortunately for Green, he's been a non-factor as of late for the club. The 21-year-old has not played since April 5, and has been an unused sub in four straight contests.
A midseason move can be difficult, but Green's struggles remain concerning. If he cannot get into the side in the second division, can he be counted on to get there in the top flight?
If Green can take heart in something, it is that his coaches are not questioning him, but suggest other players have just played well. If Green can up his game, either now or next season, he could easily find himself back in the mix. 
---
AMERICANS IN THE DFB POKAL FINAL
---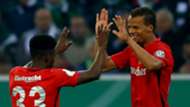 No matter what happens, an American in Germany will be adding silverware to his collection this year.
Christian Pulisic came in as a late substitute in Borussia Dortmund's 3-2 comeback victory over Bayern Munich in the DFB-Pokal semifinals last Wednesday. That sets up a matchup with Timmy Chandler and Eintracht Frankfurt in the final, after they got by a Fabian Johnson-less Borussia Monchengladbach on penalties the day before.
Chandler picked up the assist on his side's lone goal in the contest. He also assisted on a goal the previous weekend in Frankfurt's 3-1 Bundesliga win over Augsburg.
The final takes place May 27 and it's certainly possible both Americans start the contest — Chandler has started 28 of Frankfurt's 31 Bundesliga games this season, while Pulisic remains in the rotation for Dortmund.
In the meantime, both started this weekend, though neither was a huge factor. Pulisic and Dortmund walked away with a disappointing home draw against Koln, though they did lock up a top-four place.
Frankfurt lost 1-0 to Hoffenheim. While that did harm their hopes of qualifying for Europe via the table, they may gain a spot with a DFB Pokal victory.
---
MIAZGA RETURNS TO SILVERWARE
---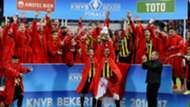 While Pulisic and Chandler both have a chance at silverware, another American helped his side win its first ever trophy.
Matt Miazga returned from injury for Vitesse in the Dutch Cup final against AZ Alkmaar. Miazga went 90 minutes in the 2-0 Vitesse victory, which secured the first major trophy for the club in its 125-year history. The defender was one of three Chelsea loanees in the win, which will guarantee a spot for Vitesse in the qualifying stages of the Europa League for next season.
Whether Miazga is there for that remains to be seen. He played well during the winter months before picking up his injury, but whether that will be enough to parlay that into a spot on Chelsea next year (unlikely) or on another English club (possibly) is a question that will be answered later in the summer.
Of more immediate concern is Miazga's national team future. A few weeks ago, it looked like he might be on the outside looking in for the U.S. this summer. But with John Brooks and Michael Orozco both injured, and the latter re-aggravating his injury this weekend, there may well be a couple of more spots available on the back line, if not for the Gold Cup then for the World Cup qualifiers before.
Now back healthy, a good finish to the Dutch season would provide a strong closing argument for the youngster as to why he should be in Bruce Arena's plans.
---
LICHAJ FACING CRUCIAL FINAL WEEKEND
---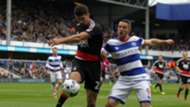 Eric Lichaj has been a fixture for Championship side Nottingham Forest this season, starting 38 games thus far. But things could be going better for the defender and the club at the moment.
Nottingham Forest has fallen into a perilous position. The club sits in 21st, just one place above Blackburn in the relegation zone. Even worse, it is level on points with Blackburn, and has just a goal advantage over the Rovers. That means a victory alone is not enough to ensure survival — nor is a Blackburn defeat a guarantee of another year in the Championship.
Lichaj appeared to be nearing a recall with Arena at the helm and may have made the team for the March qualifiers if not for injury. But if Forest is relegated, and he remains with the club, it would be hard to justify a call-up playing in the English third division.
Top teams in Liga MX show blemishes
Should the results on May 7 go all wrong for Forest, it will be worth watching whether Lichaj looks for a new club for 2017-18. Speculation is he may already be considering a move, as the Nottingham Post notes he has put his home up for sale. 
Meanwhile, at the other end of the table, the places for the promotion playoffs are nearly set. Danny Williams' Reading and Huddersfield Town, managed by former U.S. internatinoal David Wagner, are in. Tim Ream and Fulham are also all but in, due to a vastly superior goal difference over Leeds United. That means three of the four teams in the playoff have an American involved, with Sheffield Wednesday the only exception.