Isco
Capello warns Allegri to be careful of Isco in Champions League final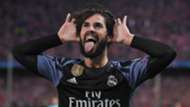 Fabio Capello has warned Massimiliano Allegri to pay special attention to Isco when Juventus take on Real Madrid in the Champions League final.
EXCLUSIVE: Ronaldo or Dybala goal offer
The two sides meet in Cardiff on Saturday, with Madrid looking to defend their European crown, while Allegri's Juve aiming to win it for the first time since 1996.
Although star forward Cristiano Ronaldo is largely seen as Madrid's main threat against the likes of Giorgio Chiellini, Leonardo Bonucci and Andrea Barzagli, Capello believes midfielder Isco will pose a problem.
"Allegri must be careful with Isco, he can create problems because he gives options through the middle for the wingers," Capello said on Sky Sport. 
"Sergio Ramos is difficult to mark on corners, because he moves based on the various blocks, while Cristiano Ronaldo has to be watched before the ball. He always anticipates the movement when scoring a goal.
"Keylor Navas has grown so much as a goalkeeper recently and often rescued the result for Real Madrid this season. He plays almost as a sweeper and can see in advance what is going to happen."
Zinedine Zidane's men are the top scorers in the Champions League with 32 goals, but Juve have conceded just three times, and Capello pointed out that their strengths are very different.
"Real have a better midfield, but Juventus' defence is superior. The attacks are both at a high level."
Juve promised Ferraris for Madrid win
Capello coached both Real and Juventus, but he is firmly supporting the Bianconeri in the big game.
"I am cheering on Juventus tonight," he added.
"In truth, I ought to be torn 50-50, but there's the Italian flag in there too and that swings it. I support the Italian team."