African All Stars
Alex Iwobi thrilled to be back in action for Arsenal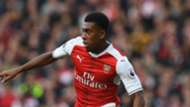 Arsenal's Alex Iwobi is thrilled to have marked his return to the Premier League with a 2-0 victory over Sunderland on Tuesday night.
The 21-year-old had not played for the Gunners since their league fixture against Manchester City on April 2 and was introduced as a 69th minute substitute for Kieran Gibbs at the Emirates Stadium.
Iwobi who has now recorded 25 league appearances with three goals for the Arsene Wenger's side this season, came close to increasing the Gunners' lead with a sublime shot in 83rd minute but was kept out by Sunderland's Jordan Pickford.
The elated Nigeria international took to Instagram to express his excitement after Alexis Sanchez's brace ensured Arsenal's fight for Champions League spot stay alive.
"Back Doing What I Love #AFC," Iwobi wrote on Instagram.
A post shared by Alexander Iwobi (@alexanderiwobi) on May 17, 2017 at 1:25am PDT