AFC Champions League
Al Ain face Malkiya in AFC Champions League play-off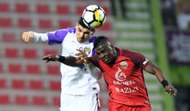 UAE Arabian Gulf League leaders Al Ain face Bahraini League Champions Malkiya at the Hazza bin Zayed Stadium today in a crucial one-legged match-up which will determine the final member of Group D, the Group of Death, in this year's 2018 AFC Champions League.
Omar Abdulrahman "Amoory" will return for Al Ain as he missed their last match due to a domestic ban that resulted from his issues with the national team. His presence is expected to give his side a boost in terms of creating play, as they struggled to muster shots against Shabab Al Ahli in their last league encounter, where they drew 1-1.
Best of luck to @alainfcae in the match against Malkiya in AFC Champions League Playoff #ACL2018 pic.twitter.com/PeRbNAuTie

— Arabian Gulf League (@AGLeague) 30 January 2018
New signings Hussein El Shahat and Ahmed Khalil are expected to be in the starting line-up while the rest of the big names such as Ismail Ahmed and Khaled Eisa will be available for The Boss.
On the other hand, Ahmed Yousef and Sayyed Hashim Essa will be expected to pressure Al Ain into an upset with their quick and nimble runs behind the defence. Yemeni defensive midfielder Nawaf Abdullah may also be a key part of their success should he earn a starting spot tonight.