PSL
Ajax Cape Town sweating over the fitness of Prince Nxumalo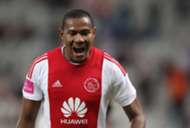 Ajax Cape Town coach Stanley Menzo hopes to have star-striker Prince Nxumalo ready for Saturday's Cape Derby against Cape Town City, while confirming the absence of defender Roscoe Pietersen.
"I hope to get him [Nxumalo] back for Saturday' but we can confirm Roscoe Pietersen will not be able to play," Menzo told the media.
The former Netherlands international goalkeeper is looking forward to the Derby, with the respective teams sharing the stadium; something which he hasn't come across in his career.
"I'd never been involved in a Derby before with two teams from the same City who even share the same stadium," Menzo said.
Last season City got the better of Ajax on both occasions, beating them 1-0 and 2-0 in the first and second round respectively.
Given their impresive start to the season, City are strong favourites to claim the bragging rights.
"There are not many such in the world. I can only think of AC Milan and Inter. It is really something special," Menzo said.