AFC U16 Championship
AFC U16 Championship: Final squads for India and other Group C teams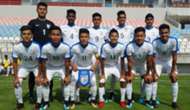 The 2018 edition of the AFC (Asian Football Confederation) U16 Championship kicked off in Malaysia on Thursday and all eyes will be on how Bibiano Fernandes and his India colts perform in the 16-team event.
The India U16s have been drawn in Group C of the tournament alongside Asian powerhouses Iran, Vietnam and Indonesia.
Led by striker Vikram Pratap Singh, India are one of the dark horses for the tournament given their impressive showings in various tournaments and friendly matches during the preparatory phase.
With the final registered squads of all 16 teams in the competition now announced, we take a look at how the four teams in Group C stack up.
INDIA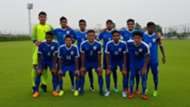 Goalkeepers: Lalbiakhlua Jongte, Santosh Singh Irengbam, Niraj Kumar.
Defenders: Moirangthem Thoiba Singh, Harpreet Singh, Shabas Ahammed Moothedath, Gurkirat Singh, Bhuvnesh Shendre,  Bikash Yumnam, Samir Kerketta, Lalrokima, Manish Chaudhary.
Midfielders: Ravi Bahadur Rana, Lalchhanhima Sailo, Givson Singh Moirangthem, Ricky John Shabong, Eric Rempuatpuia
Forwards: Vikram Pratap Singh (c), Bekey Oram, Ridge Melvin, Harpreet, Shanon Aleixinho, Reuben Letkhotinchon.
IRAN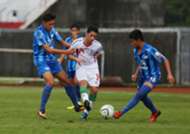 Goalkeepers: Amirhossein Nikpour, Payam Parsa, Mohammadreza Bagheri.
Defenders: Amirhossein Azizi, Mohammad Amin Hazbavi, Pouria Teymori, Hossein Shaverdi, Amirhossein Amnzadeh, Amirreza Eslamtalab, Abolfazl Alizadeh, Farzan Malekinzhad.
Midfielders: Amir Shabani, Alireza Bavieh, Mohammadreza Shakibkhoo, Mahdi Seyedi, Yasir Salmani, Alireza Khodabakhshi, Hamidreza Sharifi, Amir Jafari,  Aria Barzegar, Seyedmohammadreza.
Forwards: Hossein Hajizadehkhorasani, Mohammad Amin Doustali.
INDONESIA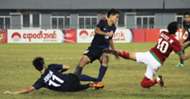 Goalkeepers: Ahludz Dzikri Fikri, Ernando Ari Sutaryadi, Risky Mohammad.
Defenders: Amiruddin Bagas, Mochamad Yudha Febrian, Komang Teguh, Fadilah Nur, Muhammad Reza, Muhammad Salman, Uchida.
Midfielders: David Maulana, Amanar Abdillah, Andre Oktaviansyah, Rendy Juliansyah, Mochammad Supriadi, Subhan Fajri, Cecep, Hamsa Medari, Brylian Aldama, Fatah Pratama.
Forwards: Sutan Diego Armandoondriano, Amiruddin Bagas Alfikri.
VIETNAM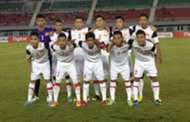 Goalkeepers: Nguyen Duy Dung, Nguyen Van Viet, Tran Lam Hao.
Defenders: Vo Quoc Dan, Giap Tuan Duong, Vu Tien Long, Nguyen Van Tu, Pham Van Dat, Tran Thanh Tu, Dang Tuan Phong, Trinh Quang Truong.
Midfielders: Ngo Duc Hoang, Nguyen The Hung, Khuat Van Khang, Nguyen Quoc Hoang, Dinh Thanh Trung, Ngo Thanh Tai, Ta Viet Son.
Forwards: Dau Ngoc Thanh, Ha Trung Hau.