KPL
AFC Leopards set to hold talks with midfielder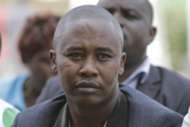 Allan Kateregga has once again found himself on the wrong side following his recent burst up with coach Robert Matano.
Reportedly, the Ugandan was dropped by Ushuru and Tusker due to disciplinary problems. AFC Leopards chairman Dan Mule says he will have a talk with the talented midfielder hoping to impact his career positively.
"Kateregga is a good player, we all know what he is capable of doing for us, and we are happy to have him," Mule told Goal.
"Sometimes if a player misbehaves, it makes it hard for him to have a good relationship with the coach. I will have a talk with him, hoping to find a solution to the problem.
"But as the management, we cannot tell the coach what to do, what we want are results, he is free to select players of his choice."
Kateregga's contract with Ingwe is set to expire at the end of the season.