United States
Adams at right back, Yedlin at right wing: Projecting the USMNT lineup versus Ecuador
in Orlando at USMNT training camp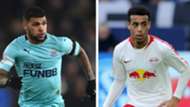 From the moment Gregg Berhalter unveiled the hybrid right back/defensive midfielder role in his first two matches in charge of the U.S. national team, it was easy to see Tyler Adams fitting into that position.
A right back in the youth ranks, and a standout right wingback during his first full season as a starter for the New York Red Bulls in 2017, Adams is no stranger to patrolling that area of the field. As much as it might seem inadvisable to shift a player like Adams away from his traditional positional role, especially when they're playing as well as he is playing for RB Leipzig, Berhalter believes the right back/defensive midfielder hybrid role can suit the 20-year-old well.
"Tyler we want to use as a right back, and we want to use him as a right back who comes inside and stays wide," Berhalter said at USMNT camp on Monday. "We think there's advantages to gain in wide areas of the field and we think he can do it.
"We see him pulling away in central midfield sometimes for Red Bull, getting on the ball and being able to penetrate on the ball. We're going to take a look at him in that position in this camp."
Those wondering how Adams' positioning might look need only recall Nick Lima's performance against Panama in January, when he shifted between sliding into a defensive midfield role next to Michael Bradley, as well as plenty of time jumping into the attack. It is by no means the traditional right back role, but a much more versatile role, one which can allow Adams to have a major influence on games.
"If we can be controlling the game how we want to control the game, he's going to be up in a two-three while we're attacking, in a position to win the ball back right away," Berhalter said. "He's not going to be in the back. he's going to be forward, at the top of the penalty box, or he's going to be combining in wide areas. That's right in his skill set."
Berhalter has stated on multiple occasions that he plans on experimenting with personnel roles, and what he tries in the March friendlies may not be what he winds up sticking with in the long term. That said, he is excited about the possibilities with a player like Adams, and how he can help the other players in the USMNT lineup.
"When you're looking at the profile of a Michael Bradley or a Wil Trapp, a very controlling player, and you have the dynamic guy next to him in Tyler, who can come inside and still be influential from that position, we think it's exciting and we want to take a look at it," Berhalter said. "It may not work exactly how we have planned, and we have to adapt. In theory, it's something worth trying."
"This is the beginning phases," Berhalter said, making the point that it's still early in his tenure, and he's still getting a feel for the player pool. "We want to test it and we want to see how it looks and we want to see how (Adams) adapts, and what he gives our team overall."
Moving Adams to right back means long-time starting USMNT right back DeAndre Yedlin is going to be deployed in a wide midfield role, something he isn't completely unfamiliar with, having spent time in midfield under Jurgen Klinsmann, and more recently with Newcastle United, both as a right wingback and a right winger at times.
"We're not going to ask him to do things he's not comfortable with," Berhalter said of Yedlin. "We'll adapt to him to a certain extent. I'm watching all of his games and what I see with him is a tremendous ability to build momentum from behind with his speed, to take advantage of underlaps or inner-lap situations. He has a good cross, and he's primarily used in wide positions. I can say that he'll be primarily used in wide positions here as well."
With Berhalter now having revealed his plans for Adams, Yedlin and also Christian Pulisic, the look of his first full-strength lineup is coming into focus heading into Thursday's friendly against Ecuador. Here is the lineup we could see take the field, along with a closer look at each position: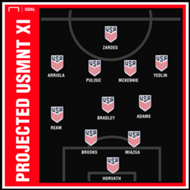 ---
GOALKEEPER
---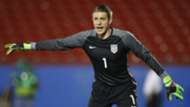 With Zack Steffen injured, look for Ethan Horvath to get the call, and he could very well start both March friendlies. The Club Brugge netminder has been in outstanding form for his club, and was impressive in his last turn in goal for the USMNT, with his memorable display against Italy last November standing as the best performance of his brief tenure with the national team.
---
DEFENDERS
---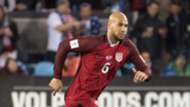 John Brooks is a safe bet to start in one of the central defender spots, but it's tough to project who Berhalter will partner him with in the middle of the U.S. defense. Matt Miazga has spent more time with the USMNT over the past year, and has more recent partnerships with Brooks, but you can't count out Omar Gonzalez, who Berhalter knows well. We also shouldn't forget about Aaron Long, who was excellent in the U.S. team's friendlies at the start of the year.
Berhalter revealed his intention of playing Adams as the right back, with Nick Lima the back-up in that hybrid role. The left back spot seems well-suited for Tim Ream to provide his experience and sharp passing. Daniel Lovitz may be a step quicker than Ream, but he doesn't have the same passing range as the Fulham defender.
---
MIDFIELDERS
---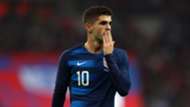 Berhalter will deploy Christian Pulisic in the left-sided number 10 role in the dual-10 system he prefers, with Weston McKennie slotting in next to him. McKennie's powerful runs and ability to cover ground should make him a perfect partner for Pulisic in that area of the field.
The distributor role in defensive midfield will be either Michael Bradley or Wil Trapp, and Bradley seems more likely to get the nod, though you wonder if the fact he played on Sunday might lead Berhalter to give Trapp the start.
In the wing positions, DeAndre Yedlin should man the right wing and, while he isn't a traditional attacker, he has plenty of characteristics to be an impact contributor on that side of the field. He also has the speed and defensive qualities to provide good support on a side of the field that will have plenty of open space at times with the right back often shifting into central positions.
On the left wing, we could see Paul Arriola deployed as an inverted winger. He is a natural right-sided player, but we saw him be effective working on the left under Berhalter in the February win against Honduras. Playing on the left can allow Arriola to cut inside and combine with Pulisic, as well as interchange with Pulisic, who will have freedom to roam in Berhalter's system. Sebastian Lletget is also capable of playing on the left wing, as could Corey Baird.
---
FORWARD
---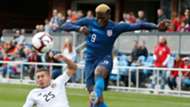 Gyasi Zardes should get the nod in the lead striker role, though his versatility could allow him to be deployed in one of the wide positions in Berhalter's setup. Christian Ramirez has done well with Los Angeles FC, and impressed with the USMNT earlier in the year and merits consideration in this group.