A-League
Active support resolution a must for A-League moving forward, says Tony Popovic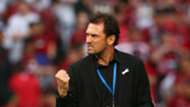 Having felt the full force of active support via the Red and Black Bloc, former Western Sydney Wanderers coach Tony Popovic has stressed their importance to the club and indeed A-League as a whole.
The RBB announced late last week that they won't be in action for the remainder of the season due to ongoing issues around the nature of their active support.
Without their voice on Saturday, ANZ was notably quiet as the Wanderers overcame Brisbane Roar 3-0 to keep their finals' hopes alive in front of a sub-10,000 crowd.
Back in Australia after an ill-fated stint in Turkey, Popovic weighed in on the situation. 
"It's disappointing in a nutshell," Popovic told Fox Sports A-League Hour.
"Everyone has their view on who's to blame and if you speak to different people everyone thinks someone else is to blame apart from themselves.
"But I think, as a whole, they need to be not just part of the club but part of the league."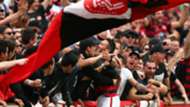 As Western Sydney's inaugural coach, Popovic saw first hand the RBB grow and help his side as they ultimately won the Asian Champions League in 2014.
Often saluting the section after matches when he was in charge of the club, the former Socceroo couldn't understate the importance of such support to a club and the competition as a whole.
"They bring something special and they feel they can't contribute in the way they used to," Popovic said.
"I certainly appreciated their support while I was coach there and they helped us get over the line many a time in tight matches.
"They helped us in the good and the bad in terms of results and you know I hope they can resolve everything and we can get that active support back, not just for the Wanderers, but the A-League moving forward."