Barcelona
Acheampong backs Neymar's decision to leave Barcelona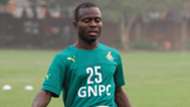 Ghana midfielder Frank 'Okebo' Acheampong has thrown his support behind Brazil star Neymar Jr, following his transfer from Barcelona to French giants Paris Saint Germain, describing the deal as a 'smart' one.
The 25-year-old completed a five-year world record transfer worth €222 million and was presented to the media in Paris on Friday. The move drew criticisms from several quarters but Acheampong, who recently joined Chinese side Tianjin Teda from Anderlecht in a four-month loan deal worth £1.2 million last month, says the Brazilian has to 'gather more money'.
"Neymar hasn't committed any crime after joining PSG from Barcelona. He is a smart guy," Acheampong told My Base Radio in China.
"He has won every title that a player would want to at Barcelona so I think he took the right decision to leave Spain.
"I am a Barcelona fan but I support Neymar because he is thinking about his family and future especially his life as a footballer after retirement. He will not be able to play football throughout his life so he needs to make hay while the sun shines.
"Some people may say he is already rich and did not need this money from PSG but you have to understand that whenever it rains, even the sea accepts rainwater so a player must take opportunities that will make them rich genuinely," he added.
Acheampong is optimistic of a favourable outcome when his side Tianjin travel to Tianhe Stadium to face leaders Guangzhou Evergrande on Saturday.
"We want to escape relegation while Evergrande are also eyeing the title so we need to double our efforts to be able to avoid defeat. It's a big game on Saturday but I'm sure we will return with smiles to make the supporters happy," he said.