Nigeria
Abidjan to host 2018 Wafu Women's Cup draw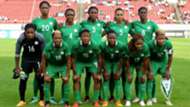 Abidjan, capital of Cote d'Ivoire will host the draw for the 2018 West African Football Union (WAFU) Women's Cup on Tuesday, January 9.
It is the maiden edition of the Wafu Women's Cup in the region and a good sign of the tremendous growth in interest of women's football in West Africa.
Eight national teams will be participating in the draws for the regional showpiece competition to be staged in Abidjan from February 10-24.
Hosts Cote d'Ivoire, Ghana, Nigeria, Togo, Niger, Burkina Faso, Senegal and Benin Republic will be competing at the first ever women's football showpiece on the sub-Saharan.
The eight teams will be drawn in two groups with the hosts seeded in Group A and Nigeria seeded in Group B.