NPFL
Abia Warriors' Ngwaogu takes lessons from Wikki Tourist defeat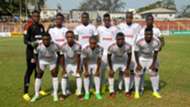 Abia Warriors coach Patrick Ngwaogu believes his side learned positive lessons from their 3-0 defeat to Wikki Tourists at the Abubakar Tafawa Balewa Stadium.
Goals from Ahmed Usman, Chukwudi Samuel, and Kabiru Muhammed saw the Umuahia based side crumble to Bala Nikyu's side and the gaffer tipped his side to put things right.
"Nothing special happened in Bauchi. It was just one of those things that happen in football," Ngwaogu told Goal.
"It is how football works. It's a round object, and everything about it also turns round. We did all we could start from the management, but it turned out that way. No cause for alarm, we are moving ahead.
"You will have your game plan, and the opponents had theirs. It was just one of those bad days of football for Abia Warriors.
"We congratulate Wikki boys for their efforts. Great performance from them and the impact of Coach Bala Nikyu was noticeable. We hope they would sustain the tempo.''
"We have returned back home to concentrate on the remaining 18 matches, taking them one after the other. The good thing about Abia Warriors is that we hardly dwell in the past,'' he continued.
"It is a progressive team and when we encounter results like the one in Bauchi, we learn from it and move forward.
"I said it earlier that the match in Bauchi will be a difficult one, and it actually turned out to be so. We apologize to our management and fans for the disappointment in Bauchi but promised to make amend immediately.
"The task now is to face the remaining matches squarely and pray that God's favour always is with us. It is not over until it is over. In the league, it is the end that always justifies the means."