Singapore are set to take on Oman in their second Group A game of the 2015 AFC Asian Cup qualifiers on Wednesday evening at the Jalan Besar Stadium, where the hosts will be regarded as the underdogs.
But defensive midfielder Isa Halim has asserted that the Lions are ready to roar, having started preparatory training since August 3.
"We are very hyped up about this match [as] we've been training hard the past few days," he told Goal Singapore after the pre-match press conference on Tuesday at the Amara Hotel.
"We didn't have any friendlies [to play], but we are hungry to kick a ball tomorrow against Oman so everybody is looking forward [to the game]."
Isa will patrol the area in front of the back four in his usual role but he called for a team effort against the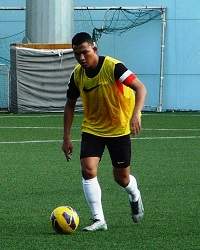 Omanis, who are expected to give Singapore a physical battle.
"It's not a matter of whether I can cope; it's whether we as a team are able to fend off Oman," he pointed out.
"Not only myself, but the whole team has to get together as a unit to defend or attack. In order to get a good result, it starts off from the striker and all the way back to the goalkeeper.
"The key battles will be in the middle and on the wings, where we have to be physically strong and fast to stop their counter-attacks and wingbacks from coming up."
Despite the visitors having started centralised training since July 20 and arriving here one week ahead of the game to prepare, Isa says the team is "confident, but not over-confident".
"I heard about that (Oman's early training) and it shows that they are very serious and they take us seriously, which is a good thing for us," he said.
"For us, we've been training hard for the past two weeks and the coach has installed new training methods.
"We respect Oman, they are a good team but we are playing at home and we need to get the points in order to advance to the next round."
The 27-year-old also urged supporters to flock to the stadium and back the Lions as they play their first competitive game under new coach Bernd Stange.
"This is a new team [with a] new coach and I hope the fans turn up," Isa exhorted.
"We can feel how it (the home support) is with the MSL team (LionsXII) and I hope they can show the same support for the national team, and we want to get a good result for tomorrow."
When asked whether the Lions were fit and ready to go, Isa's reply was unflinching.
"Yes!" came the instant response.
All pictures courtesy of FAS