Current Spennymoor Town FC manager and former Jurong FC star Jason Ainsley has been recognised at the annual Northern Football Writers' Association Awards with the Northern Non-League Manager of the Year accolade.
Held on Sunday at Manchester's Radisson Blu Edwardian Hotel, Ainsley was honoured after leading the Moors to the FA Vase trophy last season, beating Tunbridge Wells 2-1 in front of nearly 20,000 supporters at Wembley on May 4.
It was the semi-professional club's first win in the tournament, which is played annually between clubs from below level eight of the English football league system.
The 43-year-old also led the Northern League Division One side to three domestic trophies and was recognised alongside former Manchester United manager Sir Alex Ferguson, with current Manchester United manager David Moyes also in attendance.
Ainsley, who has been manager since 2007 and has led them in 420 games to date, told
Goal Singapore
via email about his delight.
"It was the first time in the club's history that they have been to Wembley and to win there was a fantastic achievement," he said.
"It is always difficult managing a club you used to play for as expectations are always high. But I have had great success in the last five seasons, having won the league on three occasions and six domestic cups, as well as leading a team out at Wembley Stadium, which not many managers can say they have achieved.
"With my team in the North East, I am in regular contact with Peter Beardsley at Newcastle United and Kevin Ball of Sunderland, playing friendlies against them throughout the season and forging links between us."
Naturally, the former S.League player was pleased with the accolade.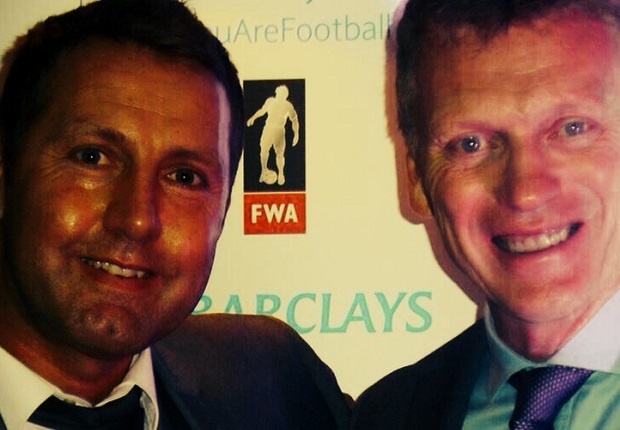 "It was a great feeling to win such a prestigious award in front of so many distinguished guests," Ainsley recalled.
"David Moyes right), Steve McManaman and Peter Reid were very complimentary, while sitting next to and chatting to Roberto Martinez, Phil Parkinson and Bryan Flynn topped off a fantastic season after also winning the Northern League Manager of the Year award."
After spells at Spennymoor and Hartlepool United, Ainsley joined Inglewood Falcons in Western Australia, where he won the Player of the Year award. From there, the midfielder came over to Singapore to join Jurong, after which he went to Balestier Khalsa for a season as well.
"I had an incredible time in Singapore and and loved every single minute of it," he said.
"The first season, I was nowhere near fit and good enough but fortunately the club extended my contract and I hopefully went on to repay their faith with some commited displays. The supporters were superb to me and I met some fantastic people and players."
Ainsley also revealed that he was open to the idea of making a return here.
"I haven't been back to Singapore, but I would love the opportunity to return," he said.
"I try to keep up to date at what is happening over there and until I lost my contacts, I was in touch with Daniel Bennett and Rafi Ali.
"I would love the opportunity to coach full time either in England or abroad. Singapore would be nice!"
Ainsley's honours at Spennymoor
2006-2007 - Second Division Champions.
2009-2010 - First Division Champions.
2010-2011 - First Division Champions, League Cup Runners-Up, J.R.Cleator Cup Runners-Up.
2011-2012 - First Division Champions, J.R.Cleator Cup Winners, Durham Cup Winners.
2012-2013 - First Division Runners-Up, FA Vase Winners, League Cup Winners, J.R.Cleator Cup Winners, Durham Cup Runners-Up, Northern League Manager of the Year.
2013-Present - J.R.Cleator Cup Winners.