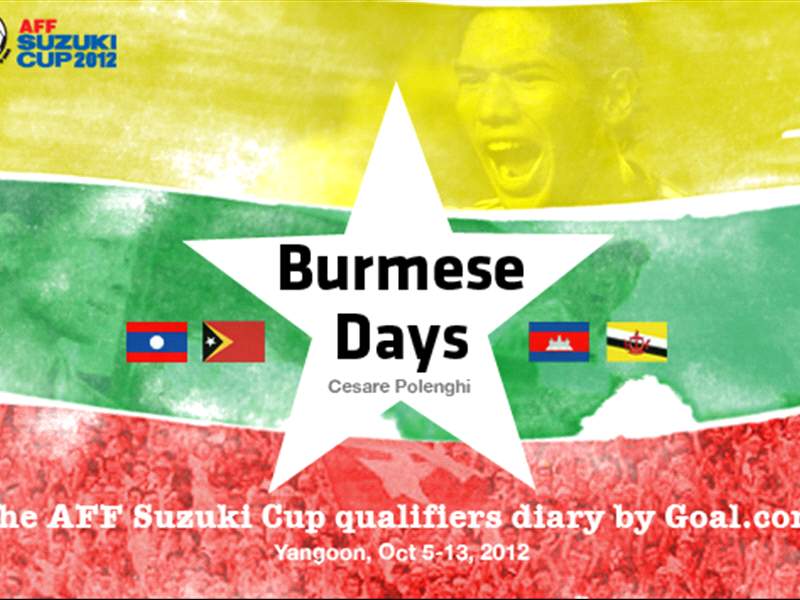 Day 2 - October 5
"Are you going to the game tonight?" I asked the taxi driver.
"Cannot, cannot, sir... Must work," was his resigned reply.
Myanmar might be another football-crazy Asian country, but it did not take me much to realise that the ordinary person in Yangon still has more pressing issues to worry about than their national team qualifying for the final phase of the AFF Suzuki Cup.
Everyone I talked with today, from the aforementioned taxi driver to my new friends at the Myanmar Football Federation, spoke with enthusiasm of a "new" country, and of the glorious days to come. But they are also aware that the generation in charge now are the ones who must carry on their shoulders the weight of change.
The Thuwunna Stadium, optimistically renamed Young Training Center Stadium, is a perfect metaphor of what Myanmar is going through. A concrete mammoth built in the mid-80s, it is badly in need of some make-over. From the outside it looks uglier than the Expo 70 Stadium in Osaka, while the dark and steep staircases up to the stands can only remind those of a prison.
Still, as I stepped inside, my feelings changed suddenly. Under a wide blue sky, the green rectangle of pristine grass shone in the afternoon sun, and despite the structure being dated, the ongoing works in view of the 2013 South East Asian games seem promising. So, I let my butt rest on the wooden bench of the media area for some five hours, as the afternoon rolled on, and four national teams had their first date with destiny.
First of all, there was Timor Leste. Yes, they do have a national football team, though it was something really different from everything I have seen so far in Southeast Asia. I guess the concept will be a bit clearer if I list some of their players' names: Adelino, Dos Santos, Pinto, De Almeida, Pereira, Barbosa... With such soccerly sexy names, they had to score at least five goals against the poor Cambodians, I thought. And they did. It ended 5-1.
If the big East Timoreans dark horses seemed almost unfairly overwhelming on the field, their coach Emerson was the kind of lovely guy you'd want to coach your child. When all the usual blah-blah of the press conference was over, he said the one thing he probably cared about the most: "My team is like a family."
It would sound like a cliche when said by most, but I am sure he was truly sincere.
The main dish of the evening was Myanmar taking over Brunei Darussalam. Both teams, coached by Korean veterans, put on a hell of a game. The home side played a quick passing football, and made up with skill and tactical awareness for their lack of physicality. The visitors replied with an impressively disciplined game - a very well organised defense and sharp counter-attacking.
Myanmar prevailed with a late goal by one of their youngsters, coast-to-coast defender Yan Aung Win. The show was however stolen by his team-mate Kyi Lin, a 22-year-old who made me wonder how scouts have missed him so far. Technique, creativity, and a clear desire to push the ball forward to win the game, he's got it all! (So, there you get my first scouting tip...)
As everybody went home and it got dark, the taxi all but disappeared in Yangoon's twilight. I was suddenly alone, carrying my heavy camera-bag around the park outside the stadium, until two media PR chaps from the Myanmar Football Federation picked me up on their battered car and took me to a local diner.
I know this is yet another cliche, but I can never be amazed enough at how football unites people. I have met 'Tun Tun' and 'Okocha' a few hours ago for the first time, but soon we were buddies, talking about our favorite players, football economics in Asia, smartphones and marriage.
It is 1:20am as I type these last lines at their office just next to the stadium. I am here as their guest, quietly sitting at an empty desk in a corner, and exploiting the best internet connection I have found so far in Myanmar. As far as I understand, in the middle of the Myanmarese night, they are diligently working on some pamphlets for one of the next games.