By Peter Staunton
Faryd Mondragon is living history. As Colombia's World Cup ended with defeat to Brazil in the World Cup quarter-finals, so too did another historical chapter.
Mondragon bridged the gap from Rene Higuita and Carlos Valderrama - through Victor Aristizabal and Ivan Cordoba - to James Rodriguez and Juan Quintero. When Mondragon made his international debut against Venezuela in May 1993, his Colombia team-mate Eder Alvarez Balanta was three months old.
The 2014 Conmebol World Cup qualification tournament was the sixth for which Mondragon was eligible. He was back-up to Oscar Cordoba 20 years ago in the 1994 World Cup. He was first-choice four years later in France as again the Colombians failed to qualify for the knockout rounds. He was in the shadow of the legendary Cordoba again as Colombia sensationally won the 2001 Copa America without him in the ranks - their most significant achievement.
Colombian football, in truth, had been in the doldrums since then. No World Cup appearance since 1998. No impact on the South American game to rival their stunning 5-0 win away at Argentina in the run-up to USA '94. They were even short of the star quality that made the likes of Valderrama and Higuita household names. Little by little things started to grow. Radamel Falcao and James now lead an exciting and talented generation of Colombians imposing themselves on the world stage. They are back in the World Cup reckoning. And through it all, Mondragon has endured. He is finally saying goodbye after a 24-year career that took in spells at 11 clubs in seven different countries.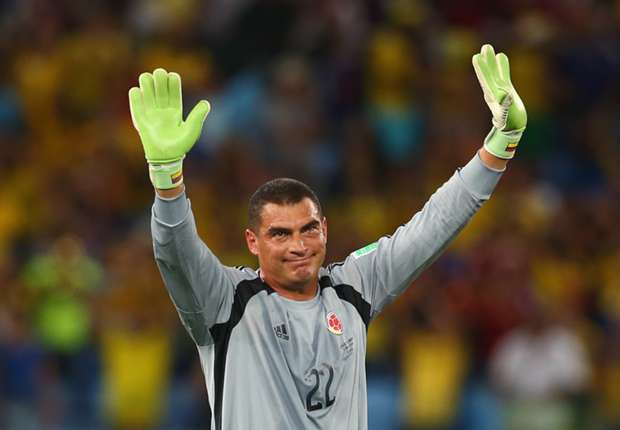 "Faryd!, Faryd!, Faryd!," they chanted. The Colombia fans in the Arena Pantanal were in high spirits. Colombia were playing their final Group C match in the 2014 World Cup against Japan and had already topped the group. They were leading thanks to Jackson Martinez and their supporters wanted Jose Pekerman to fulfil a wish. It would be a wish for them - the fans who came in their thousands - and a wish too for the man they were serenading from the four stands.
Mondragon, the 43-year-old goalkeeper, went through his warm-up routine at half-time. He didn't get down to the shots as quickly as he had in the past but he had a look of determination in his eyes. A 10-minute run out would not be seen to him as a consolation prize. It would be a reward and a fitting farewell for a cherished and influential squad member.
The ball went dead and the cheers rose. By the time David Ospina, the Colombia No.1 these days, trotted to the sidelines the noise had reached a crescendo. There were tears and there was applause. Mondragon took the acclaim and jogged on to take his place in the Colombia goal for the 56th and final time. In doing so he became the oldest player in World Cup history, surpassing Roger Milla.
"Jose Pekerman convinced me to continue playing. I will never forget that," he said. "If it wasn't for him, I would have retired two years ago. I feel privileged to be here."
And if anyone thought his cameo appearance was an insult to the Japanese, they were given a reminder of Mondragon's abilities when he made a brilliant late save from Yoichiro Kakitani. That stop was cheered as loudly as any Colombia goal on the night.
"It was unbelievable," he said after the game. "I think everyone was waiting for this moment. Thanks to Jose Pekerman and the rest of the team, my friends, this dream was able to come true for me."
Mondragon was recalled by the new Colombia coach Jose Pekerman in October 2012 for a friendly against Cameroon, when the Argentinian perceived a lack of experience and direction in what was an undoubtedly talented group. With Mondragon taking on a central role in the dressing room and fellow veteran Mario Yepes taking control on the field, Colombia balanced their World Cup qualification campaign to earn the right to play at Brazil 2014.
After blazing a trail through the group stages and second round, Colombia's challenge was vanquished by Brazil. Ospina was beaten twice, but his understudy and mentor, Mondragon, was there to console him at the final whistle. After the quarter-final defeat to Brazil, he did the inevitable.
So the curtain falls on Mondragon's long and storied career. His final stop was at his beloved Deportivo Cali where he finally clinched the Superliga de Colombia title as captain earlier on this year. For club and country, Mondragon has had a fairytale ending to his playing days.
"My last stage as a player. Today I am retiring from active football with the best memories, with the honour and the pride of belonging to this group of warriors," Mondragon posted in a video message at the weekend. "To all fans, all the spectators, all of Colombia, thank you very much for putting up with me over this 24-year career. I love you."