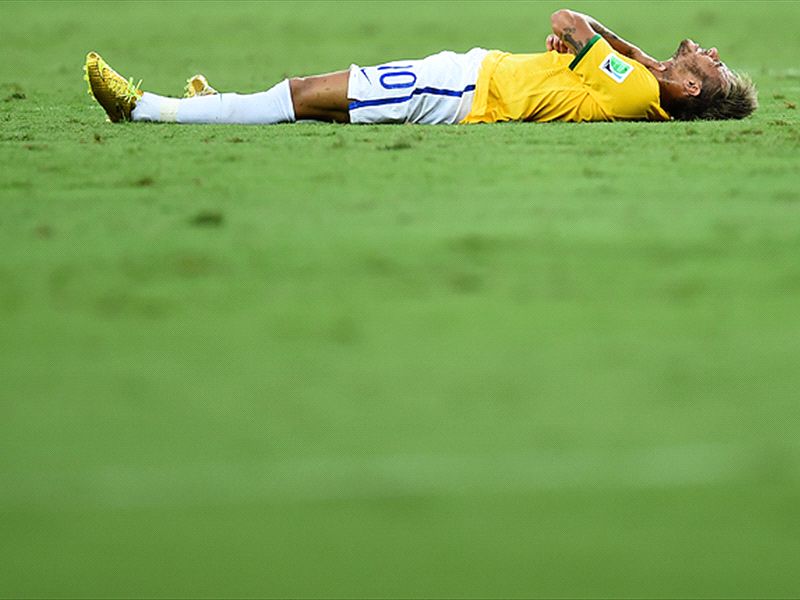 Neymar
is not seriously injured and will be back training at
Barcelona
within a month, according to
Brazil
's team doctor.
The 22-year-old was stretchered off after a reckless challenge by Colombia's Jose Zuniga in Brazil's 2-1 win in the sides' World Cup quarter-final on Friday and Selecao doctor Rodrigo Lasmar later revealed the forward would be sidelined for the rest of the tournament.
Due to the delicate nature of spinal injuries, there were also concerns over the player's prognosis in the long-term, but those fears have now been allayed by Brazil's chief doctor.
"We're happy to say it's a minor injury," Jose Luiz Runco told
TV Globo
on Saturday. "He'll recover fully and there will be no long-term effects. It will take three or four weeks to heal.
"Right now he needs rest and analgesic anti-inflammatory medication, and in four weeks I'm sure he can resume his normal activities and return to his club [for training]."
Runco revealed that Barcelona had been informed of his condition and claimed the player will be able to remain with the Brazil squad during the remainder of their World Cup campaign.
"We have informed his club of his condition and kept them up to date," he added. "In terms of him staying with the squad for the rest of the World Cup, I see no problem at all.
"Whether he can be on the bench with the other players is up to the coaching staff, however."