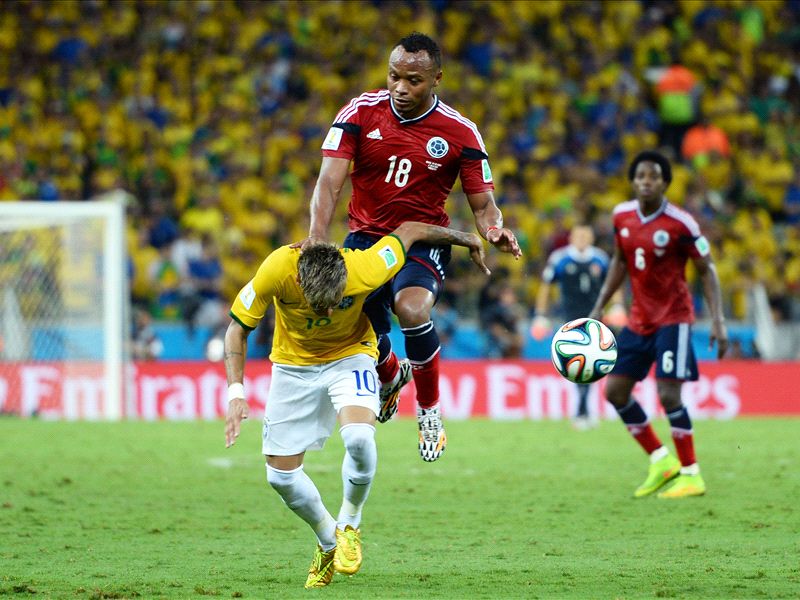 Fifa has confirmed it will analyse the incident in Friday's World Cup quarter-final which saw
Neymar
suffer a broken vertebra in his back.
Colombia defender Juan Camilo Zuniga challenged the Brazil star from behind in the closing stages of the game, causing the back injury which has now ruled the Barcelona forward out of the tournament.
Zuniga insisted after the match that he did not mean to hurt Neymar with the challenge
, for which he escaped a yellow or red card, but Fifa has since revealed that its disciplinary committee will examine the incident to see if further action should be taken.
"The disciplinary committee is analysing the matter. The spirit of fair play is very important and we want to avoid difficult things on the field of play," Fifa's head of media Delia Fischer told reporters at a briefing on Saturday.
Despite Zuniga's protestations that his challenge was honest, former Brazil striker Ronaldo claims the Colombian has a case to answer.
"The challenge was a very violent one – I believe there was an intention by the Colombian player to cause some harm," he insisted.
"I don't think it was normal football play, I don't know whether he had planned this beforehand but I do believe it was very aggressive, very violent."
Goals from David Luiz and Thiago Silva sealed a 2-1 win for Brazil on the night that secured their semi-final spot, where they will face Germany.