EXCLUSIVE

By Niloufar Momeni
After a playing career that took him from the Iran Pro League to the Bundesliga and back, Vahid Hashemian has once again returned to Germany to coach at fifth-tier SV Halstenbek-Rellingen. With fifty senior caps and a Bundesliga title under his belt, Hashemian spoke to
Goal.com Asia
correspondant Niloufar Momeni about his career and the challenges he faces in his new role behind the touchline.


How did you hear about this position, and why SV Halstenbek-Rellingen?
As you know, it has been six months since I have retired from my playing career. I was last playing at Perspolis, and even months before that I had plans in mind for coaching. I also had offers to play for other teams.
But I moved to Germany four months ago, where Relligenten's then-manager, Thomas Bliemeister approached me for this job. He's one of the experienced coaches in Germany with years of experience at Bundesliga. We are now colleagues, and he became the team's technical director.
Were you actively looking for coaching positions before you landed this job?
Yes, 5-6 years ago I got my UEFA B Certificate and 9 months ago I got my A Certificate. It was my dream to pursue my career in coaching but I did not know where to start. However, my family situation changed; my wife lives in Hamburg and then my child was born here. So all of that contributed to my decision.
"To pursue coaching [in Germany], every coach has to take these small steps first; even Klinsmann took it step-by-step"




- Vahid Hashemian

In Europe some players like Didier Deschamps and Michael Laudrup immediately took over top-tier clubs after earning their coaching license; in Iran this is the standard. As you've played professionally in both Iran and Europe, why did you choose to take it step-by-step in Germany?
As I have playing in Germany for a long time, I have learned the German System, where promotion to the next level is always step-by-step. To pursue coaching here, every coach has to take these small steps first; even Klinsman took it step-by-step after his B Certificate, but Beckenbauer is the only exception.
You have been in charge of SV Halstenbek-Rellingen for two weeks now. What's your daily routine with the squad? What's your role in the coaching team, and what goals are you pursuing?
We have four trainings per week and one match per week. As for my free-time, I'm working on improving my German language proficiency. Any time other than that, I spend with my family. I'm not as stressed as I was in my playing years, with all the travel and re-locations.
Our goal this season is finishing in the top ten. We have to try our best, and then take it from there to advance to the fourth tier.
What is your coaching philosophy?
Of course every coach's philosophy is around winning titles and bringing honors and trophies with the team, but not at any cost.
For instance, in Iran some coaches bribe referees, manipulate the media, bring their favourite players, rely on powerful people to achieve something. These things exist. I would never do that. Values should be followed.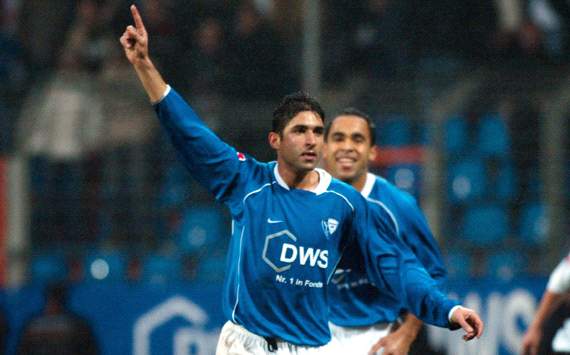 What are your plans five years from now?
Coaching is a serious work. I have lots of passion for coaching, but coaching is different from playing. Coaching and team management require lots of responsibility. At the same time, there is no such guarantee in coaching. So nothing can be predicted five years from now.
Germans called you "The Helicopter" because of your strength in the air. Did you like that nickname?
The spectators came up with that nickname. But hard work and great games result in these nicknames. Nicknames do not result in great games.
After your successful first stint at Bochum you chose to take the challenge at Bayern. Looking back, do you consider this as a mistake?
Back then, it was the best move for me. At that time, I had offers from other teams as well, such as Schalke, and Stuttgart. The best offer was by Bayern Munich, but I did not have luck in my playing tenure there as I did not get to start that much.
"As a small team, we achieved great things. We defeated Schalke, and that was a big point of pride for me because I had a big role in that match"





- Vahid Hashemian

For you personally, was qualifying for the UEFA Cup with Bochum a bigger success than the Bundesliga title you won with Bayern as a substitute?
As a small team such as Bochum, we achieved great things. We defeated Schalke, and that was a big point of pride for me because I had a big role in that match.
Bayern was also a big [accomplishment]. I got to win the Bundesliga championship with them, and I also experienced two Champions league games. So I was part of all these glorious moments.
You played with some great players and you worked with some great coaches: Who was the best player and the best coach that you worked with?
I got to work with many great coaches in my career. The best coaches helped me a lot and I learned a lot from them; others did not help at all. In terms of players, I think [2004-05 Bayern team-mate] Lucio was really the best player I have worked with.