Kenya has officially lost out on any opportunity to host either 2019 or 2021 African Cup of Nations tournaments.
This was confirmed through a statement from Football Kenya Federation President Sam Nyamweya, who is currently leading a Kenyan delegation in South Africa, where the group had hoped to submit a late bid to the Confederation of African Football (Caf) after securing government guarantee.
"Caf has advised us that having been late in securing government guarantee and having closed bids for the 2019 and 2021 editions of Africa Nations Cup, we (Kenya) therefore, becomes the sole candidate to have handed in our bid to host the 2018 edition of the African Nations Championships."
The Kenya delegation in South Africa included FKF Vice President Robert Asembo, Secretary General Micheal Esakwa and Marketing Manager Gerald Chege. Also in the meeting held in Cape Town, South Africa, was Caf President Issa Hayatou, 2nd Vice-President AlMamy Camara and Secretary General Hicham El Amrani
The Kenya government had guaranteed all support towards Kenyan FA in case the country won the bid. Caf had earlier indicated in a statement on January 24 that: "The official candidates for the 2019 edition are Algeria, Cameroon, Cote d'Ivorie, Guinea, Democratic Republic of Congo and Zambia, whilst, Algeria, Coted'ivorie and Guinea are the candidates to host the 2021 edition of this competition."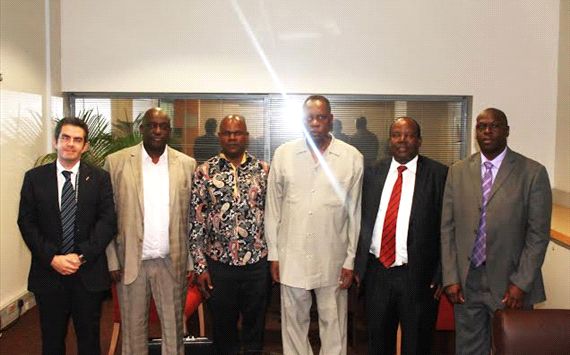 CAPE TOWN MEETING|
Kenya FA delegation led by Sam Nyamweya meets Caf President Issa Hayatou
Kenya's attention now turns in earnest to the 2018 African Nations Championships (Chan) - a second tier football competition involving national teams who's players ply their trade in respective home leagues.
"This is great news to our country and it gives us an opportunity to host Africa's finest a year before our initial projection. This makes us favourites to host Chan 2018 and Caf has assured us of their support because this will make Kenya the first country from Eastern region of Africa to host a Caf tournament since 1976," read the statement signed by Nyamweya.
Rwanda has been earmarked to host the 2016 Chan edition.