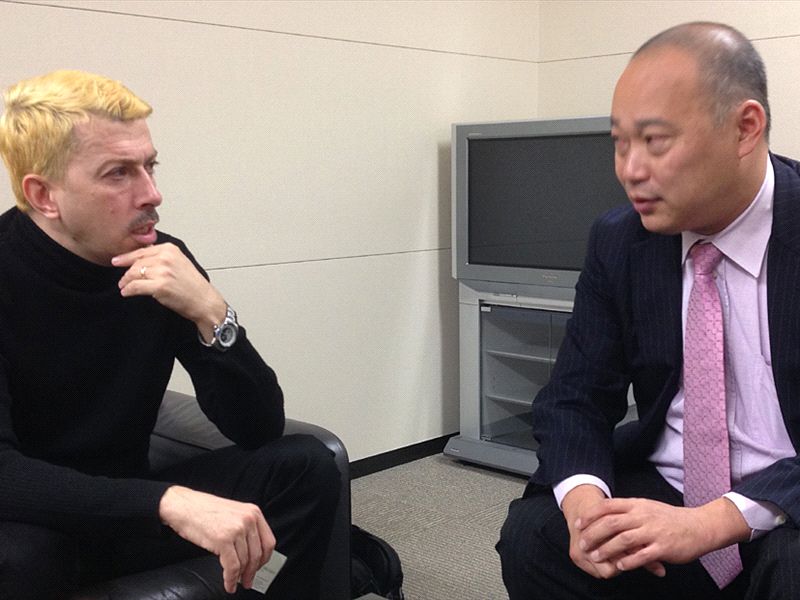 CP: In financial terms, why is Southeast Asia attractive for the J-League?

DN: Sponsorship for European leagues isn't just local; it's global because the audience is global. In our 20 years our sponsors have only been domestic, but around us there are 600 or 700 million people; Southeast Asia in particular is the world's fastest-growing economy, and since they aren't far from Japan time-wise we can to look there for a potentiail audience.

CP: I lived in the region for a year and a half, but a lot of supporters, players, and leagues look to the J-League as a model because of the high level of play and integrity. Southeast Asia has had a lot of problems with gambling and match-fixing, but everyone can enjoy the J-League. Clubs like Thailand's Chonburi FC and Kelantan have studied the J-League's community system and replicated it. How is the exchange of ideas going?

DN: In order to make Japanese football stronger we have to make Asian football stronger. In Asia, people with money look to invest in Europe. If we don't spend that money on Asian football, our market won't grow. 65% of the EPL's overseas broadcasting rights sales come from Asia. If some of that were invested in Asia, the ACL could be a bigger competition, and Japan could become a leader in Asian football. If you look 10 or 20 years in the future, Asia has a potential to become that sort of powerhouse, and has the most potential for growth.

But in order to accomplish that, each country needs to build a strong league. The J-League is sharing the knowledge we've gained in 20 years and building alliances with these leagues. They have a lot they want to learn from us so they're always coming to our headquarters. We tell them that countries like Brazil and Germany and Italy have always been strong at football, but the J-League started weak and in 20 years we've become good and gained a know-how that's slightly different from how those countries do business. And since we learned so much from having to start from nothing, we want to share it with SEA countries.

CP: Is it going well?

DN: I think so. When we create these friendly relationships, those countries become more interested in the J-League, so we're getting to the point where fans in those countries who want to watch the J-League can do so. That's the first step. What we have to consider are two problems: one is that for people who want to watch high-quality football, we're always going to be competing with the EPL or other European leagues. The other is that weak or strong, fans still hold a strong affinity for their local teams. If you consider those two issues then the J-League is in a weak position; so how can we appeal to Southeast Asia?

The key may be in our affinity with Brazilian football. When Zico came to Japan he taught us a lot of things, and he became an evangelist for the J-League. If we can do for Southeast Asia what he did for the J-League and make that emotional connection, we can potentially create that market. So that's why we're building these alliances, sharing information, and in our own way becoming evangelists for the sport.

CP: More SEA players like Le Cong Vinh playing in Japan wouldn't hurt either.

DN: Le Cong Vinh is a great example, and that's why we're creating a situation in which fans in those countries can watch the J-League. If their country's stars are playing overseas, that league will attract attention. They might not be ready to play in the Premier League for example, but there may be opportunities for them in the J-League, which is something that European leagues can't offer.

CP: If players from countries like Indonesia, Malaysia, or Thailand join, those clubs will be really popular. In Southeast Asia, Japanese football has a good image and they think Japanese players are cool.

DN: 10 years ago people stayed up late on Sunday night to watch Hidetoshi Nakata play, and we want that sort of phenomenon to happen with SEA fans and the J-League.

CP: How would you compare the J-League's progress to that of SEA?

DN: 30 years ago, Japan was about on par with those countries. [JFA technical director] Hiromi Hara lost 2-5 to Thailand as a player. That's where we were at, level-wise. If SEA nations set benchmarks and put in the effort, they can reach our level. I think someone from the region will appear with Japan in the 2022 or 2026 World Cup.

CP: How can SEA meet its potential?

DN: I think presently a lot of ASEAN countries are satisfied with beating each other. That wasn't enough for Japan, which is why we aimed to be able to compete globally. So if the J-League and SEA set proper targets, we can change football in this region. First you need to improve expectations. Then you have to take their skilled players who could become better players and give them opportunities to play in a stronger league. SEA is a center of economic growth, and they're passionate about football. If that money can be spread around Asia, you can shift the balance of the global game.

SEA's strength is that there are a lot of rich individuals who are willing to invest in the game. They might grow faster than Japan did. Inter Milan's new owner is Indonesian; I shared a meal with him in Jakarta. He's a very interesting guy.

CP: Thohir is a hot topic in Italy. Everyone thinks that foreigners consider football clubs to be their toy, but he's a businessman. He's getting popular and he's taking his role seriously.

DN: [Rakuten Corporation president] Hiroshi Mikitani bought Vissel Kobe and has invested in the club, but there are few cases like that in Japan. Yet if businessmen like Thohir start investing in their own country's football, they could accomplish things even Japanese clubs haven't.