INTERVIEW
By Patrick Reilly
When Kevin Walker takes to the stage on Friday evening for the Idol grand final in Stockholm he will do so with a smitten nation cheering him on. The 24-year-old heartthrob has been the runaway success story of this year's music talent show on Swedish television. He has developed a devoted, One Direction-like fanbase and adorned multiple magazine covers.
As usual with contestants on shows like Idol, Walker comes with a backstory. Extraordinarily, he is a midfielder for Swedish second-tier side GIF Sundsvall - and a pretty handy one at that.
"It's a bit like having your birthday every day," Walker tells
Goal
during a break in rehearsals at Stockholm's Globe Arena.
You might expect Walker to be on the receiving end of some flak from his team-mates for being on the talent show. Not so, he laughs, and in fact his whole Idol adventure began after a video of him jamming with a team-mate at a club function caught the attention of the programme's producers. "My team-mates have been great. I haven't missed a single training session all season but I wouldn't have been able to combine music and football without the club's support," he says.
Swedish channel TV4, which broadcasts Idol as well as the second tier of domestic football - the Superettan where Zlatan Ibrahimovic made his name - provoked international headlines when they switched some of Sundsvall's matches so as not to interfere with Walker's schedule on the hit programme. The move annoyed some within the Swedish game who said it made a mockery of the competition. It's a tactic which paid off though, at least on the stage, where Walker's exploits on Friday evenings have made the show a ratings winner and catapulted him to the grand final.
"The television channel moved games for me and at times it has been a bit turbulent but on the whole it has been a great ride from start to finish," he says.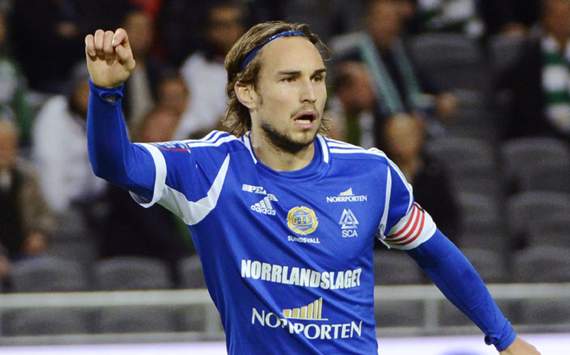 Swede Dreams |
Walker on the field for GIF Sundsvall this season
On the pitch, Walker's side narrowly missed out on promotion to Sweden's top division this season - the Allsvenskan - after losing a play-off to Halmstad. He was a key player throughout their campaign and chipped in with crucial goals - including a spectacular long-range winner against Falkenberg.
His performances in midfield seemed to improve as his celebrity status rose with his Idol showings. Walker netted three goals in three games in October and Sundsvall looked a shoe-in for automatic promotion until they slipped up by drawing two of their last three matches.
"Missing out on promotion was a bit tough but Halmstad were a better side than us in the play-off and we just have to get through it," he says matter-of-factly.
Walker has a healthy sense of perspective, no doubt influenced by his brush with death five years ago. Whilst on international duty with Sweden's Under-21 side, he contracted blood poisoning which brought a sudden halt to his football career.
"He was close to death and it was a very shocking period for him and the whole family," Walker's father Pat said. He's since made a full recovery and has ambitions to emulate his Irish father, formerly a player in England, and perform at a higher level.
Sweden's severe winters mean the club season is played from April to November, so right now Walker is focusing on his burgeoning music career. "There are some similarities between going on stage and playing football. We don't play in front of huge crowds with Sundsvall but it does help. My comfort zone is being on the pitch as I'm more used to that."
An album deal and recording contract is up for grabs for the winner of Idol 2013. Walker is already being mooted for other potential shows with TV4 who are keen to keep a hold of their prized asset. "For me it has always been about the music and at the moment I'm just enjoying the whole adventure. There's no way I could have predicted I'd get to the final and meet Robbie Williams. It's a blessing to come this far," he enthuses.
Previous Idol stars have gone on to represent Sweden at the Eurovision Song Contest meaning Walker, who is also eligible to play for the Republic of Ireland, could have a dilemma in a few years. Walker is close to his Irish roots with some of his extended family jetting over for Friday's final.
"I haven't thought about Eurovision to be honest! If that is the right thing for me to do in the future then of course I'd be interested," he says. Win or lose Idol 2013 on Friday night, it's unlikely we have heard the last of Kevin Walker - the footballer or the singer.
"I've got a year left on my contract with Sundsvall," he says. "My ambition has always been to excel at what I am doing whether that is football or music."
Patrick Reilly is a freelance journalist based in Malmo, Sweden. You can follow him on Twitter here