Swansea
manager
Michael Laudrup
has declared he will remain focused on the
Capital One Cup
final against
Bradford
despite speculation linking him with jobs at
Manchester City
and
Real Madrid
.
MAN CITY EYE LAUDRUP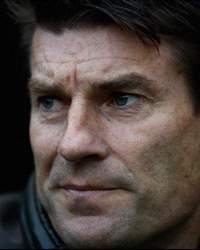 The Dane has attracted the attention of the Premier League champions after an impressive season with Swansea


The Dane has been linked with the high-profile clubs on the eve of the Wembley cup final, but Laudrup insists he is completely focused on the match with the Bantams.
"I think it's not the moment to talk about the future," he told reporters.
"I think we are again, three days from maybe the most important game, or at least one of the most important games in the history of this club so to talk of something else, I think it would be a little ruthless in this moment. So let's focus on the big thing."
The former World Player of the Year went on to say that to win the Capital One Cup with Swansea would be one of the greatest achievements of his career, and he is under no illusions of the importance of the match.
"I think to win a title as a manager, and I already tried it, it is bigger than to win it as a player," he stated. "As a player, you're just a player, you just have to think about what you're doing within a team.
"But as a manager you have to build up a team and you have to arrive there and to win it. So for me it gives much more as a manager than as a player.
"I know the importance of this game has on everybody here, in the club, in the city, the team, the fans, everything, then for that reason it's huge for me as well because I know, I can feel.
"I've felt it during these weeks we've been waiting how huge an impact it has had already and I can imagine if we win on Sunday, it will have."
The 48-year-old manager was also quick to reiterate that his side must be on top form to beat a giant-killing Bradford team who have so far had a fairytale journey to the final at Wembley.
"We have to accept that we are the favourites in the final, for the simple reason that we are playing in the Premier League and Bradford is playing in League Two," Laudrup continued. "But that's good for me and good for everybody.
"We've seen what they have done to Wigan, to Arsenal and especially to Aston Villa - and the reason why I say especially to Aston Villa is because it was a two-leg game. It was two games, 180 minutes and I think it's just fantastic.
"Maybe that we are in the final is a small fairytale, but Bradford is a huge one.
"We have to accept that we have to take hand of the initiative in the game and they will play a lot on the counter and for the set-pieces where they have been very, very good during this competition and season."
Laudrup also revealed that his side have not been practising spot kicks in the build-up to the final, despite the remarkable record their opponents hold in penalty shootouts.
"I haven't really thought about that," Laudrup stated. "No we may kick some penalties but I may be wrong but I have an opinion about training penalties.
"I think there's so much mentally, psychologically, involved in a penalty, in penalty shootouts in a final, its something you can't really train.
"Because you can be the best in training, take 15 consecutive penalties and then suddenly when you have to do it in the final the goal is getting so small and the goalkeeper so big."