PROFILE
By Evans Gyamera-Antwi

The youngest Fifa referee in Ghana Daniel Laryea is optimistic he will make the cut for the 2018 edition of the World Cup due to his remarkable performances.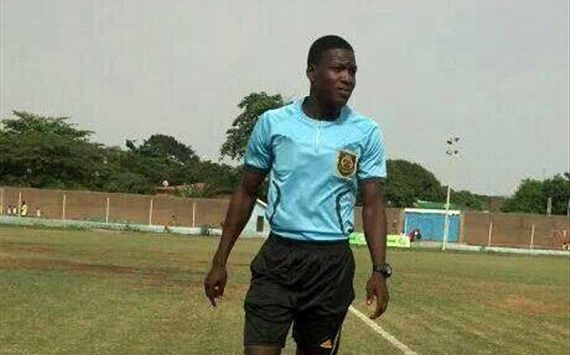 ON A MISSION | Laryea wants to be at Russia 2018
The most promising referee in the west African country wants to raise the bar in officiating in Ghana as he targets the Mundial.
Laryea, 27, who joined the Knights of the Whistle in 2005, has gone through the ranks to become one of the sought-after officials currently in the country, but he believes hard work coupled with discipline is the key to his success.
"I train seriously everyday and also adhere to every good advice given to me from senior colleagues, family members and close friends," Laryea told Goal Ghana. "I've reached where I'm because of all these but I think I'm fortunate because many are those who wish to have good people around them to always criticise their works constructively but do not get."
Giving up football
When he recalled how difficult it was to give up playing football following advice from his senior brother and granddad to mediate on the field, it brings about mixed feelings. A feeling he thinks could have gone either ways – a star player by now like the Essiens, Muntaris or Ayews or an unknown footballer.
"I always wanted to play football so whenever my senior brothers who are referees were going to training, I will join and train to keep my body in shape but they later advised me to join the referees' community," Laryea recollected. "It wasn't easy because I couldn't imagine leaving the aim of playing for Ghana but upon several talks, I adhered to them and joined because they told me I can still represent Ghana if only I'm serious as a referee."
He had joined the Referees' Association of Ghana (RAG) as a 17-year-old boy with high hopes and was waiting vividly for the prophesied words from his siblings and 10 years on [27 years of age now] Laryea became the youngest Fifa referee to officiate in the Ghana Premier League in the 2013-14 season and has remained a top-flight official ever since with wonderful performances.
"The dream has come through as well as what my brothers prophesied, I can't believe it myself. God is good and will always remain good."
Laryea's meteoric rise up the football league ladder culminated in being added to the Select Group of referees for the 2013-14 season. Prior to his time in the FCP Premier League, Laryea was a football league referee for three years after learning his trade with four years at the Division One League level. In 2013, his quick progress was rewarded as he was elevated to the Fifa list of referees, making him eligible to take charge of fixtures in the Caf Champions League and Confederation Cup as well as Caf internationals.
Dream come true
Laryea admitted he was with outermost joy when he recently officiated his first ever international game in the second league of the on-going Caf Confederation Cup between Union Sportive de Douala of Cameroon and Aslad Moundou from Chad in Douala where the host won 3-0 (5-1 on aggregate) to qualify to the second round of the competition.
Laryea stated: "Officiating on international stage is good to my development. In Cameroon, I learnt a lot because that was my first game but I wish to have more games on international level to help me develop very well for future endeavours."
Danny, as he is affectionately called by close ones, is with high hopes after having reached Africa. "It is my biggest dream to be selected as one of the officials for the World Cup next four years in Russia," he revealed to Goal, adding "I'm 27 years now and will be 31 when the next World Cup is due. At that time I believe I will be at my peak which puts me in a good position to make the grade.
"In 2018 for instance, as the Economist will say [all things being equal] I will be very much experienced in the game of football and it will propel me into greater heights."
Refereeing runs through the Laryea family as his grandfather also once officiated in the top-flight of Ghana football and became the chairman of RAG after retirement. "In my family, refereeing is part of us. My granddad [L.O Laryea] was a referee and became the chairman of RAG until he left office last year and my senior brother [David Laryea] is currently also a Premier League referee. Moreover, Ashitey Armah who's also a Premier League referee is my uncle and Robin Laryea, who is currently a Division One referee is also a family member not forgetting our late brother Jonathan Laryea, who also actively officiated here in Ghana before joining the ancestors - may his soul rest in peace.
"You can see that we eat, drink and sleep with football, especially playing the role as judges [referees] between two teams and it is always a palpable moment for us when on the field of play."
Laryea also revealed that he has never been beaten or harassed in any league game, adding that adequate preparation coupled with good appearance deter supporters from attacking him. "I know we have teeming hooligans here in Ghana but none of them have beaten me before. When I've a league match to handle, I concentrate a lot on the game I'm going to officiate," he said. "I critically analyse the game before, during and after to come out with the best approach and make sure my assistants are also fit physically or mentally. When your assistants are on top of their games, the match will live up to expectation because they will be there to protect and support you when the need arises, making sure any off-the-ball incidents that happened at your blind sides are seen."
Laryea believes referees' appearance also play a major role in administering their duties, noting that it can protect them from hooligans or easily make one a prey to them. "Many of the supporters of clubs in Ghana respect referees who are nicely dressed during games. When the decisions are not going their way, they complain but at times your appearance [dressing] will either deter them from beating and humiliating you or sell you out as they spark their anger on you."
Toughest fixture
When asked about the most difficult fixture he has handled, Laryea revealed that "I remember in my most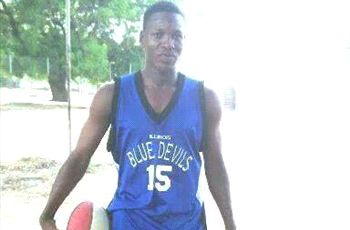 difficult ever game handled in Berekum between Arsenals and Ashanti Gold, the home side [Arsenals] were winless after eight games and relegation was staring at them. They wanted to win by all means [dubious or not] and eventually took an early lead; a perfect start they aimed for and decided to protect that goal if they can't score another. Arsenal came in with injury-bound tackles but I stood firm and booked every single player who went contrary to what the law says. It was a very tiring game for me and my able assistants on that day because both teams puffed and huffed till the end of 90 minutes."
Aside football, Laryea is a fan of basketball. He takes delight in watching his favourite superstars doing dunks on the basketball court. "I really like basketball, it's an interesting game. I always play with my friends everyday and weekends when I'm free."
Laryea had his secondary school education at Accra Academy and is an alumnus of the University of Ghana, Legon. He currently holds a Bachelor's Degree in Accounting.


Goal Ghana has its own

and

account, so for all the latest news and features on Ghana football follow us by clicking on the above links