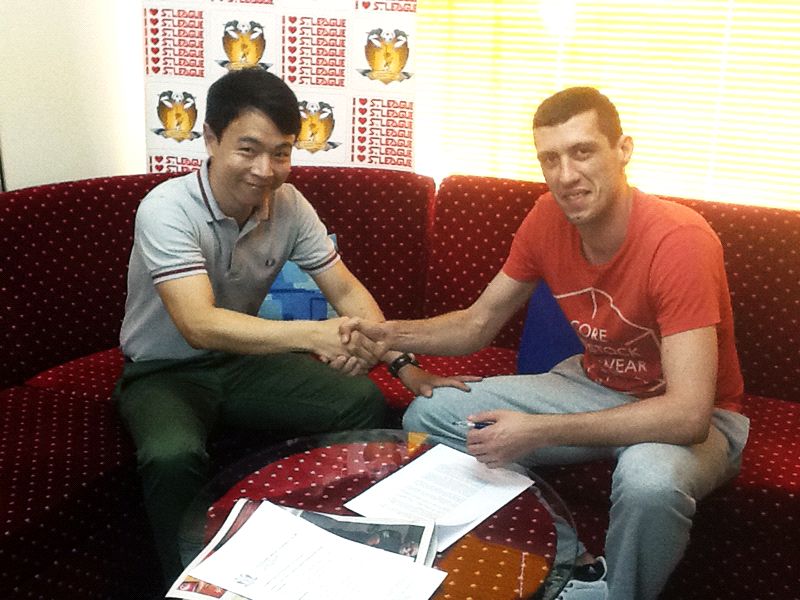 New
Hougang United
centre-back Durica Zuparic nearly didn't make it here to Singapore, due to the short notice he was given about his trial.
The 29-year-old Croatian was
signed as a late replacement
for striker Mamadou Diallo, who was forced to leave the country
after his work permit application was rejected
.
The move to the Cheetahs is one that Zuparic is more than happy to make, having experienced the uncertainty in the professional leagues back home.
Goal Singapore
caught up with the strapping defender, who told us more.
Hi Durica, welcome to the S.League! Tell us a little more about yourself.
I come from Rovinj, one of the most beautiful cities in the Mediterranean. This was where I grew up and where I started my professional playing career.
I am always on the lookout for new and better challenges in my career. I have played in a number of clubs where I have had both beautiful and tough moments. It was when I experienced my mother's death that I began to set a series of clear goals. I told myself that I would give my best in the game and make something football a fruitful career.
I have a younger brother who lives with my dad in Rovinj. They work in the tourism industry and have always been my biggest supporters. My determination and motivation to succeed in my career eventually led to my nomination as one of the three best young defenders in 2006. The club that offered me the best possible financial and moral support was HNK Moslavina and till this day, I am still grateful to them for offering me a platform to excel.
But I've heard that your professional career has been tumultuous, with stories about the mafia controlling football in Croatia. You actually missed out on an Inter Milan camp due to their interference?
Ups and downs are part and parcel of every athlete's career. I have many setbacks but every time I go through one, I just tell myself to get up and move on.
Since independence, Croatia's economy has experienced difficult times and this has ultimately affected the sporting industry as well. Some of the football clubs feature senior management with little moral and ethical values with little or zero knowledge in football. Unfortunately, the game has become corrupted in my homeland and is poisoned by cronyism and nepotism.
I actually missed the Inter Milan training camp due to an incident that I deem funny rather than sad. I was playing in the 3rd Division as a 17-year-old in a reputable international tournament. Based on my performances, I was named in the team of the tournament and had earned a chance to train with Inter Milan. As the situation unfolded, I could not leave my current club to attend the camp since we were playing for the League title. To my bemusement, I found out later that "someone" had actually ensured that I could not make it for the camp so that his preferred defender could take my place.
Oh dear. That's terrible! How is the general situation in Eastern European football, then? You were apparently asked to fix a match, is that right?
I could not speak for the entire Eastern Europe but in Croatia, only Dinamo Zagreb is financially sound. It is common to find many players in the Croatian Leagues playing without any income for several months. You might wonder how this is possible. I can tell you that 80% of my footballing friends do not receive any salary but they still have to carry out their contractual obligations to the club.
Hence, how does one survive then? Players will borrow money to survive. Take me for example. I only received 50 Singapore dollars from the Croatian club where I was playing at for 25 days. When I questioned the president of the club, he said this amount was for a week's pay and he would give me the rest later.
I am a man of integrity so I will never fix a game. You will have to kill me before I will even do that. However, I cannot say the same for some of the more desperate players because they have bills to pay and families to feed. It is a sad but realistic situation.
That's good on you. I can imagine that this opportunity to come to Hougang is a big one for you, then. How did this chance present itself?
I always view my arrival in Singapore as a positive sign of things and I see this as a great opportunity for my career. Hougang United is a large and well-organised club and I do not measure the size of the club by the number of seats they fill or whether they play in a large stadium. This club is "large" because it has a warm heart and soul as the management is always putting themselves in our shoes and thinking of our welfare from our angle. Even though I am new, I have already experienced the great bonding at Hougang United from the management right down to the "Hools".
I will like to invite the fans, people who are already connected to the club and especially those who stay in the vicinity to catch us in action. Come and see why Hougang United is so special and "large" and how we will uphold this bond throughout the season.
We heard you almost couldn't make the trip here too! What happened?
When my representatives, Trebol Sports International, contacted me about the trial, I was given very short notice to prepare. I had to seek permission from my last club, NK HASK Zagreb, obtain the necessary release letters and book a flight, which was rather expensive since the departure date was very close. Fortunately, God ensured that everything works in my favour this time round - for once!
We are happy to have you here! What are your impressions of the club and the S.League in general so far?
My impression of Hougang United is phenomenal. As I have said, the organisation of this club is commendable and of the highest level. The S.League is professionally organised as well and I can see that you guys really care and are serious about Singapore football. In fact, I think that some of the European countries can actually learn a thing or two from the S-League.
High praise indeed. Turning our focus to the current season, what do you hope to achieve at Hougan? At 29, youg are no longer young as well. Do you see your future in Asia, or do you have plans to return home?
I hope to have an injury free season so that I can give my level best to help Hougang United do well this season. I will like to raise the name and profile of the club as I believe that this club certainly deserves more. My focus now is on playing and training and if things go well, I will like to end my career in Asia.
This interview was facilitated by Trebol Sports International