His dream to play at the highest level professionally was abruptly ended in 1997 due to a medical condition, shortly after making his debut in the inaugural season of the S.League in 1996.
"It was my first and also my last professional contract as a player in 1996," Richard Bok recounted.
"I still remember the date: January 15, 1997.
"I was unsure then if it was a stroke. I was doing [my] warm-up in the morning with V. Selvaraj (ex-Singapore international and current SAFFC assistant coach) and suddenly, it was like a black out - half of my vision was blank.
"I rested for about two hours, but it did not go away. Then-manager LTC Chris Chan sent me to the hospital, and they suspected [there was] a [blood] clot in me."
Bok, who is currently the coach of SAFFC, was still adamant that he would continue to play despite that incident.
"I still continued to train and even played a friendly against the Thailand army club," Bok recalled.
"After a week, the results came out and I find out that I had protein-C deficiency. My blood is thick and easily clots, and it had an impact on my vision.
"Doctor told me that I could not engage in competitive football, not even physical activity."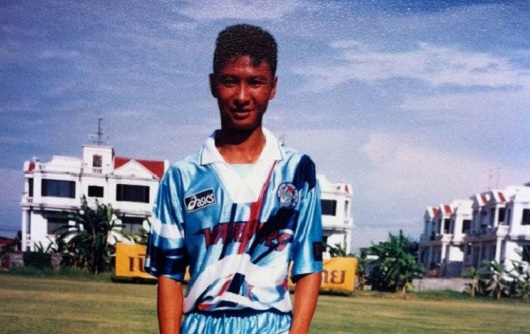 But fortunately for the then-27-year-old, the club allowed Bok to stay, albeit in a different role.
It was to be the start of his illustrious career as a football coach; two years later, he would win his first accolade with the Warriors youth team.
"Then-chairman BG Law Chwee Kiat let me continue to be involved with the club, and the next best thing [to do] was to be a coach," added the 43-year-old.
"I attended various coaching courses, and got myself qualified.
"I was then helping Vincent Subramanianm (the SAFFC coach then) by going to watch other teams play and [giving] feedback to him.
"In 1998, I was formally appointed as an assistant coach. I was also in charge of the Prime League team, and won the title in 1999 and 2000."
Before assuming the role of head coach in 2006, the Warriors Arena had seen six different coaches, all with their own personality and attributes.
That helped to mold Bok's coaching philosophy into what it is today.
"Vincent is a workaholic," said Bok of the former Singapore national coach who is now based in India.
"He worked very hard, [had] lots of detailed planning and was very disciplined, while Mladen Pralija was more of a sports science person."
"He was into vitamins [and] what was for breakfast and lunch, and all these were to enhance the players' performances and prevent injuries.
"Fandi [Ahmad] had this player-coach rapport; [he was] very good with the players and they listened to him. Next is Jimmy Shoulder, who was a very fatherly figure, [often] giving lots of advice to the players.
"I liken myself more to Kim Poulsen. He was a very detailed person, [always] giving specific instructions to every player. Sometimes, winning and losing all boils down to that small detail.
"Finally, Peter Butler was into youth players. You can see [that] his team had many young players, even when he was with Kelantan."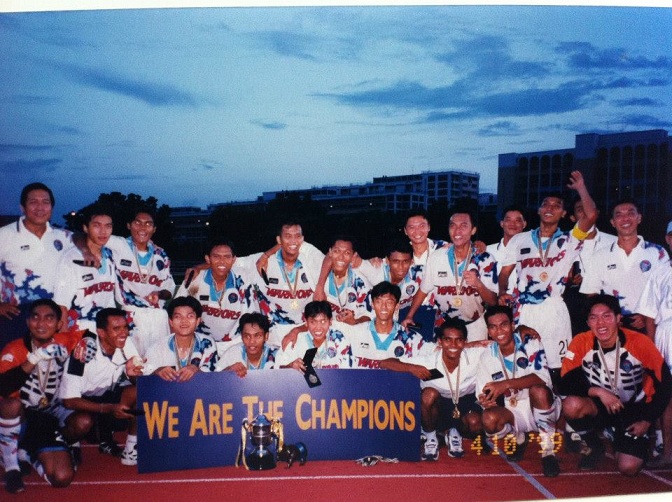 But things were not all smooth-sailing for Bok initially, as the opportunity to lead the Warriors was not one that happened decidedly.
"I have been lucky, actually," admitted Bok.
"[Ex-general manager] LTC Kok Wai Leong had told me that I wouldn't be a head coach, but he was also the one who gave me the chance to lead the team.
"I was surprised when Kok told me that I would take over as head coach at the start of 2006, they [had] told me [previously] that they did not think I was of a head coach material!"
Bok maintains that he has always done his "best to bring the team together", and emphasised the importance of teamwork.
"We work hard as a team, and believe that we can achieve our target," said the three-time S.League Coach of the Year winner.
Although the past two seasons have not been too kind to Bok, the fact remains that he has guided the Warriors to their most successful era in the club's history, a feat that is also unmatched by any other club or coach.
"We won the league four times in a row, and also [clinched] two Singapore Cup titles," he beamed as he recalled the massive trophy haul from the mid-2000s.
"To reach the AFC Cup quarter-finals twice and be in the Asian Champions League is a fantastic achievement for me and the club. We even won a game against Henan [Jianye, a Chinese club] in 2010!
"I have fond memories of that, and it was a great experience. That is the highest [stage] a club can go, to play in the Champions League, and we have been there twice.
"No other local team has yet reached that stage."
It is never easy to leave when one has stayed so long, that he has become synonymous with the club, but Bok is looking forward to the future: "I had a wonderful journey with SAFFC. Definitely, it is emotional after being with the club for 16 years - there are many feelings [involved] - but then [again], you cannot stay forever. Life still goes on, and it is [going to be] a new chapter for me."
"When the Chairman told me that my contract was not going to be renewed [at the end of this season], of course it was disappointing.
"Maybe it is a blessing in disguise to [be able to] move on to a new environment and challenges, be it in Singapore or maybe overseas."
The outgoing Bok expressed his sincere appreciation at the efforts and cooperation of everyone he has encountered in his career here so far, and did not forget to thank the supporters as well.
"I want to say a big thank you to all the chairmen, managers, staff and players that I have worked with, [and] not forgetting the wonderful fans who have supported me all these years," a grateful Bok added.
The two-time Singapore Cup winner has one more chance to add to his tally. SAF will be taking on Tampines Rovers in the 2012 Singapore Cup Final on Sunday October 28 at Jalan Besar Stadium, before Bok signs off on his illustrious Warriors career at Bedok Stadium against Geylang United in the S.League just days later.