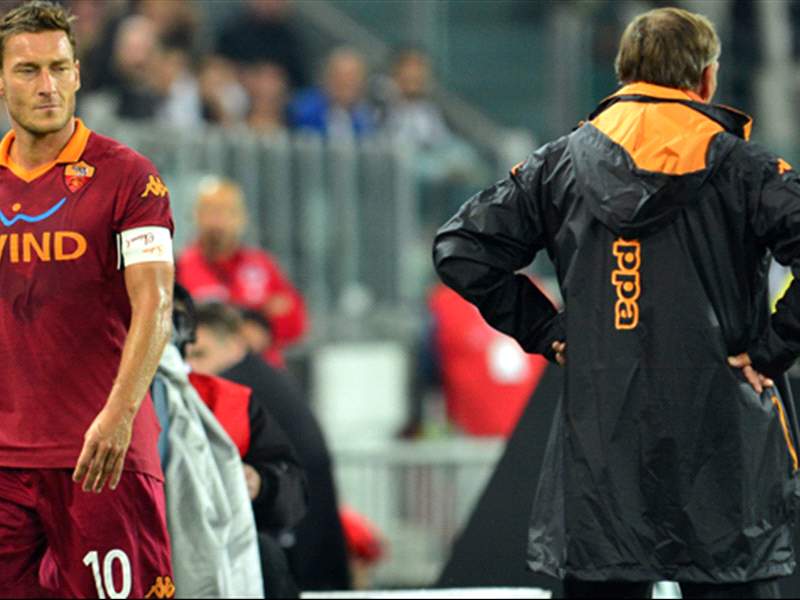 While Napoli have been bravely challenging Juventus' hegemony in the last two rounds, Milan and Inter have been showing some signs of resurgence, and Lazio and Fiorentina have shown that they are competitive teams. The main disappointment has been Roma, as they tied at home with a 10-men Sampdoria in midweek, before crashing to a humbling 4-1 defeat against Juventus in Turin.
Truth be told, the score could have been even more humiliating, had Juventus not decided in the second half to slow down and save some energy for their forthcoming Champions League game.
In the first half alone, the
bianconeri
shot on goal 13 times, scored thrice and hit the crossbar twice. Roma were overwhelmed in every area of the pitch, and it took less than thirty minutes for all four of Roma defenders to get yellow carded.
Despite Juventus' omnipotence (they are by now undefeated in 45 Serie A games) a disaster of similar proportion is rare at this level. The team captained by Francesco Totti seemed in a complete state of confusion, and it is just normal that most pointed the finger at the man leading the deranged Roman troops: Zdenek Zeman.
The Bohemian coach was hailed as a saviour as he returned to Roma this past summer, after his triumphant season at the helm of Pescara, the winners of the past season's Serie B. Despite many previous years lived in the periphery of major football and quite a few failures, Zeman was suddenly re-labeled as "Mago" (magician), and the Italian press spent a whole summer telling tales on how under his lead the
giallorossi
would be contenders for the title.
Evaluating the transfer market,
Gazzetta dello Sport
gave Roma and Zeman 7 out of 10 (a quite high vote, by Italian standards) while the
Corriere dello Sport
,
Tuttosport
and
Mediaset
pushed it up to 7,5/10.
Sky
went for four out of five. All were unanimous in writing that the Bohemian "got all the players he wanted" and Roma would see under him a new reinassance after the lights and shadows of Luis Enrique's reign in the past season.
As a matter of fact, the club have invested 37 millions in new players, managed to keep aboard Daniele De Rossi (whose name had been for a while on Real Madrid and Manchester City's notebooks) and shelled out almost a net 200 million of Euros to cover the squad's salaries for the season.
Alas, with five games played, Roma has won only one, their spectacular 3-1 win in Milan against Inter. Back then, the media still cheered Zeman's attacking football, and underscored how he schooled the young Stramaccioni.
Things have changed radically after the debacle against Juventus. Doubts are exposed by journalists as much as by Roma's management (technical director Sabatini said that the club "might have overestimated some of their acquisitions") and by De Rossi, who made a point about Roma "not being a contender for the title."
Zeman himself was very stern after the game and admitted that Juve completely overwhelmed his team. The question is, how could this have happened to such a "Mago" ? A look at Roma's starting line up and tactical disposition actually will have any observer raise their eyebrows. At the back, Taddei, a natural right-sider, was fielded on the left. At the other end, Federico Balzaretti started the game despite running a high fever and had to be subbed during the first half, and in his place as right back came Marquinhos, who was allegedly bought to serve as a central defender.
In midfield, De Rossi was denied a central role at at the expense of the unexperienced Panagiotis Tachtsidis, while Andrea Pirlo, Juventus' brain, was left free to do as he liked. Roma players seemed totally lost, as the game soon turned into a Waterloo. No corrections came from the bench, a merciless Juventus scored three goals in 19 minutes and walked all over Zeman's Roma for most of the match.
The question now is, was the enthusiasm about the return of the Bohemian manager in any way justified? Looking back at his career, Zeman did obtain some decent results in Serie A with Lazio and during his previous spell at Roma, but overall his pedigree speaks of only three minor titles won, one with Licata in Serie C2 (Italian former fourth division) and two in Serie B, with Foggia and Pescara.
While it is true that Zeman has helped many young players to develop and his "total football" is surely entertaining, it seems that at Serie A level, those entertained might often be Roma's opponents, as it was the case with Juventus on Saturday.
The paradox is that in the past summer Zeman was picked over Vincenzo Montella, in what to the most neutral observers seemed a decision to please the masses of Roma's fans. The Bohemian's declared antipathy toward reigning champions Juventus (he famously signed a supporter's "I hate Juve" t-shirt during preseason) was an automatic magnet for the fans, and the sales of season seats tickets sky-rocketed up an impressive 50%.
A couple of months later, Roma's faithfuls and players as well seem to have lost their enthusiasm and the club might be ready to give Zeman the boot. If it happens, it would be the thirteenth time in his career that the Bohemian magician gets fired during the season. Did anybody at Roma care about this ghastly stat last summer?